BSNL Franchisee / Partner Registration 2023 Online at BSNL FMS (Franchisee Management system) portal https://fms.bsnl.in.
FMS BSNL
The Bharat Sanchar Nigam Limited BSNL is India's (fourth) largest telecom service provider with millions of users nationwide. The government-owned service provider works under the telecommunication department and Ministry of communication India. Users benefit from mobile and internet service, making it a reliable telecom provider. The BSNL collaborates with various partners to ensure quality service distribution.
The partners offer BSNL services such as Broadband, Fiber to the home, mobile services, and more. The franchisee/partner venture into rural and urban areas. They can serve commercial and residential clients in India. This increases the BSNL client base in India and offers extensive services. BSNL rewards the franchise and partners with a significant commission of up to 50%. Interest parties such as individuals, businesses, societies can venture into the business.
BSNl FMS
Benefits of partnering with BSNL service provider for both franchisee and users
Excellent commissions such as product commission and activity-based commission.
Quality services in all parts of the country.
Increasing the number of BSNL users thus increases revenue.
It will help venture into both rural and urban areas in India.
Improve communication by providing digitalized gadgets and internet services.
Introduction to online payment services such as mobile apps, wallets, and more.
BSNL active support center to convey any network issues.
Fms.bsnl.in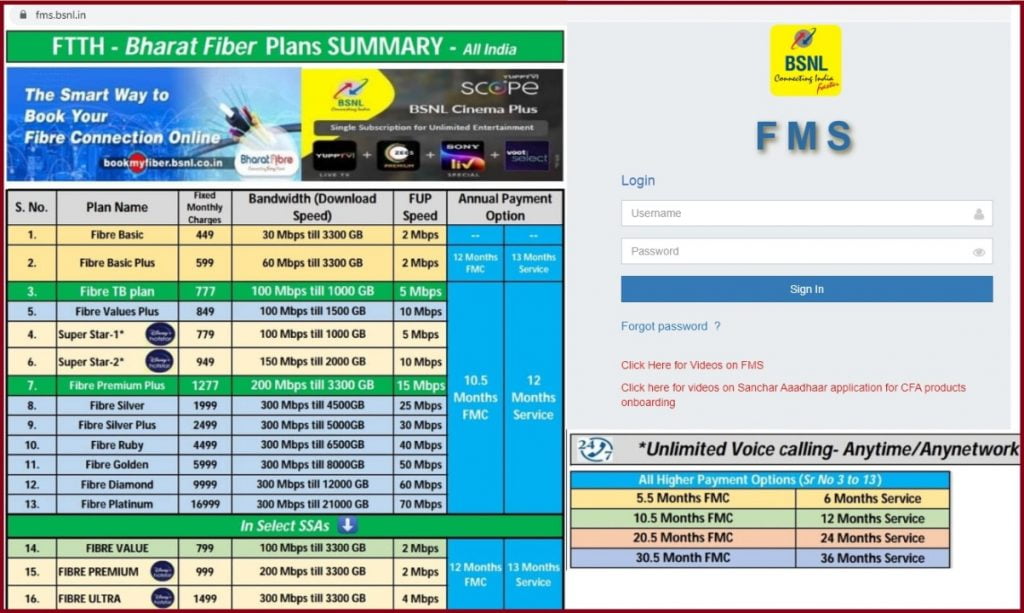 BSNL Franchisee/Partner list
The BSNL has listed eligible applicants as follows:
The Resident Welfare Association.
Telecom Infrastructure provider.
Builders
DIDs
System integrators
Franchisees
All registered companies and societies.
Local cable operators
BSNL retails
Direct selling agents
Any local business people
Telecom service provider.
The eligible groups must possess good marketing skills to help spread the BSNL network across India. The groups must register through a simple BSNL registration form to qualify.
BSNL Franchisee Registration 2023
How to register with BSNL as franchisee or partner
Visit the BSNL FMS Registration link https://fms.bsnl.in/partnerRegistration.jsp
On the homepage click "register" button.
Enter the mandatory details such as:

Company name.
Email
Mobile number
City/district
Address
SSA
Circle

Recheck the information, enter the message and click submit button.
After submission, the BSNL executive will review and verify the information.
The BSNL officer will contact you for further processing.A local BSNL executive will also visit you for verification and orientation about BSNL services.
The eligible partner needs to enter legit details to avoid inconveniences or cancellation of the partnership. The BSNL service Company will strictly follow up before engaging any business partner.
FAQs
Who is eligible for a BSNL partnership?

The opportunity is available to everyone, considering you have the infrastructure applicable for BSNL services. The Company has also provided a list of relevant groups as mentioned above.

What's the primary aim of partnering with BSNL?

BSNL telecom service provider seeks to expand its services throughout the Country through partners and franchisees. The partners can offer internet and mobile services on behalf of BSNL.

How will franchise and partners reactive their payments?

All partnering groups will receive a 50% commission based on the activity and products. The payments are conducted according to the agreement with the Company.

BSNL FMS Full form

BSNL Franchisee Management system (FMS BSNL)