Incredible Details on rajgir Glass Bridge Ticket Booking, timings, Price. 2023 Rajgir Glass bridge ticket booking online booking at official website. Rajgir Zoo Safari Ticket Online Booking at Naturesafarirajgir.in
Rajgir Glass Bridge
Bihar State government and tourist departments go beyond natural attractions to entertain tourists in the state. The state is famous for its 200 feet high Rajgir glass bridge in Nalanda. Thousands of visitors from in and outside India come to see the beautiful glass bridge between five hills in Bihar. The feature has increased the number of visitors streaming, thus building the state's revenue.
Millions of people want to create beautiful memories at the Rajgir Bridge by taking photos with families and friends. The site allows visitors to view the hills and other natural scenarios from a high point. Rajgir Bridge is believed to be 85 feet long and 6 feet wide. The phenomenal bridge can hold 40 people simultaneously. This gives Bihar an upper hand in tourist matters, thus fulfilling the initial plan for building Rajgir Bridge.
Naturesafarirajgir.in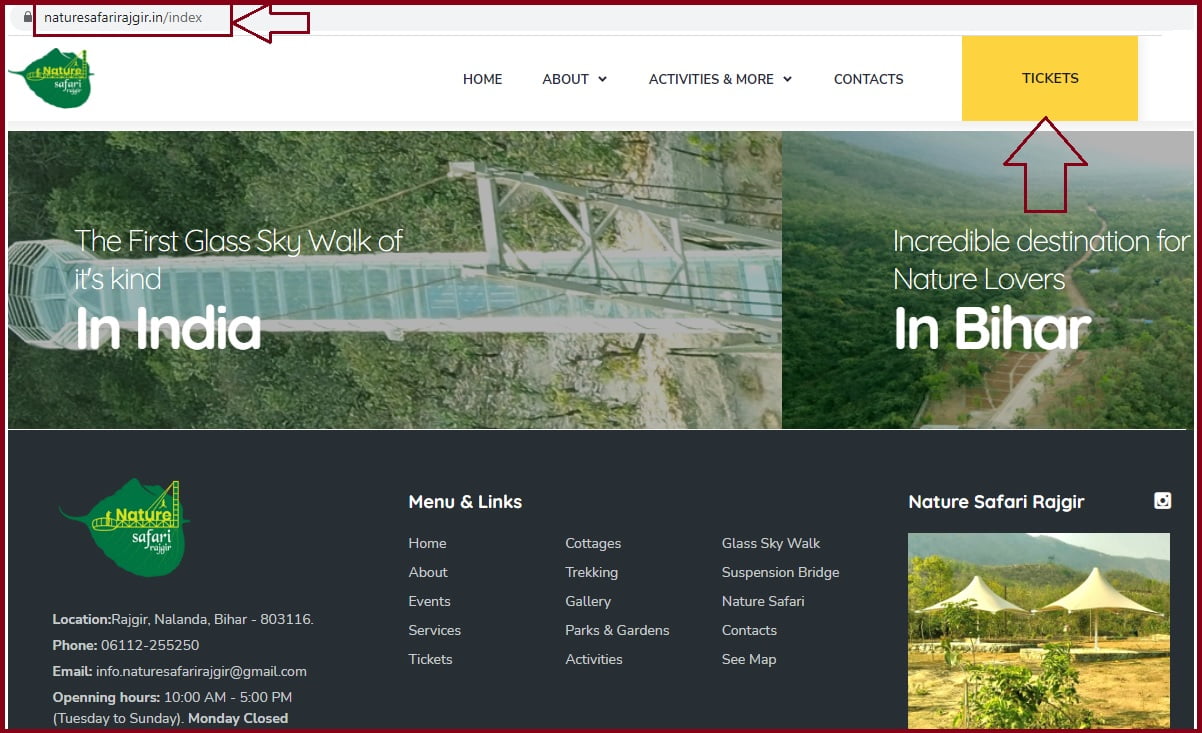 ZOO Safari Rajgir
Rajgir Bridge Fun Features
Besides the incredible view, visitors can enjoy multiple fun activities such as
zip lining
The nature park safaris,
Rifle shooting
Suspension bridge
Archery
Glass cabins
Cycling
Mud/wooden/bamboo houses.
Jeep sky
Interest individuals can book the tickets online through the Bihar Rajgir Zoo Safari website portal www.naturesafarirajgir.in. The user can avail of the timings, ticket prices, booking process, requirements, and terms on the website. Tourists planning to stay for a few days can check hotels in Nalanda for accommodation.
Rajgir Glass Bridge Ticket Price
The booking is always full due to the high numbers of visitors visiting daily. To avail a slot, it is wise to book in advance. The management authorities and government have offered simplified online booking facility to help curb congestion. Users can pay for specified activities as priced below:
| | |
| --- | --- |
| Adventure Name | Ticket Price in INR |
| Glass Sky-walk | Rs.125/- |
| Suspension Bridge | Rs.10/- |
| Zip-line Flying Fox | Rs.100/- |
| Jeep Sky Booking | Rs.100/- |
| Rifle Shooting | Rs.50/- |
| Wall climbing | Rs.20/- |
| Archery | Rs.100/- |
| Battery Vacancy | Rs.10/- |
| Bamboo house, wooden house, and mud house | Rs.500/- |
| Cycle | Rs.10/- |
Rajgir Glass Bridge Ticket Prices
Rajgir Glass Bridge Ticket Online Booking
Steps by step for rajgir glass bridge online booking 2023 process
Go to the Rajgir Zoo Safari website portal http://naturesafarirajgir.in/
Open the homepage menu, and select the "book ticket" option.
Direct link: https://naturesafarirajgir.in/tickets
To register, enter your mobile number, and the system will send an OTP code.
Enter the code to verify and proceed to the next option.
Now, enter the required details like the name and number of people visiting the Zoo.
Recheck the information and click submit if correct.
Proceed to the payment page, and pay the tickets using a credit card, debit card, or internet banking.
The system will process the details and generate an e-ticket.
Download the e-ticket or avail it on your mobile number.
The general entry fee at Rajgir is Rs.100, which is affordable for both local and international tourists. Visitors can arrive early as the gates open from 9 AM to 6 PM to enjoy your trip and every adventure.
NATURE SAFARI TIMINGS
Opening hours:10:00 AM – 5:00 PM (Tuesday to Sunday). Monday Holiday
How to Reach Rajgir Glass Bridge
Location of Rajgir Glass Bridge and means of transport
The bridge is built inside the Rajgir Zoo safari between five hills with multiple adventures. The safari is located in Nalanda district in Bihar state, India.Interested visitors can use various means and modes of transport to reach Rajgir Zoo/wildlife Safari.
Air is quite convenient and fast means to reach Rajgir. The user can use Gaya Airport, which is 68KM southwest of Nalanda. One can also use Patna Airport, which is 98KM Northwest of Nalanda. The airports are linked to other major cities in India. After arriving, one can use a Taxi or cab to reach the Rajgir Zoo Safari.
Bihar state offers great train connections for easy commuting. The Gaya Railway station is 60km from the safari. People use Rajgir station, which is 1KM from the town center, making it the best option.
There are various options; the user can take private or government buses from Rajgir to Patna, Gaya,Nalanda, and other places. One can take a taxi or two-wheeler to reach the safari easily.
FAQs
How many people can use the Rajgir Glass Bridge?

The bridge can hold 40 people at the same time.

Who can use the Glass Bridge?

Everyone is allowed to use the Bridge (adults and children).

Is the entry fee covering other activities?

The entry fee is Rs. 100; for other activities, the user needs to pay as directed on the chart above.

Rajgir glass bridge ticket booking official website

Direct link: https://naturesafarirajgir.in/tickets