The HCL Tech Bee Registration 2023 Eligibility, Application Form, Syllabus 2023 at Registrations.hcltechbee.com
HCL Tech Bee 2023
HCL Technologies is a global technology company. The HCL technology products are built on four decades of innovation. Renowned HCL technology company is to start up a new job program for class XII completed students . It is named as HCL TechBee program. The details of HCL TechBee 2023 program like eligibility criteria, selection procedure, training program summary, program fee, stipend are given in this article.
Registrations.hcltechbee.com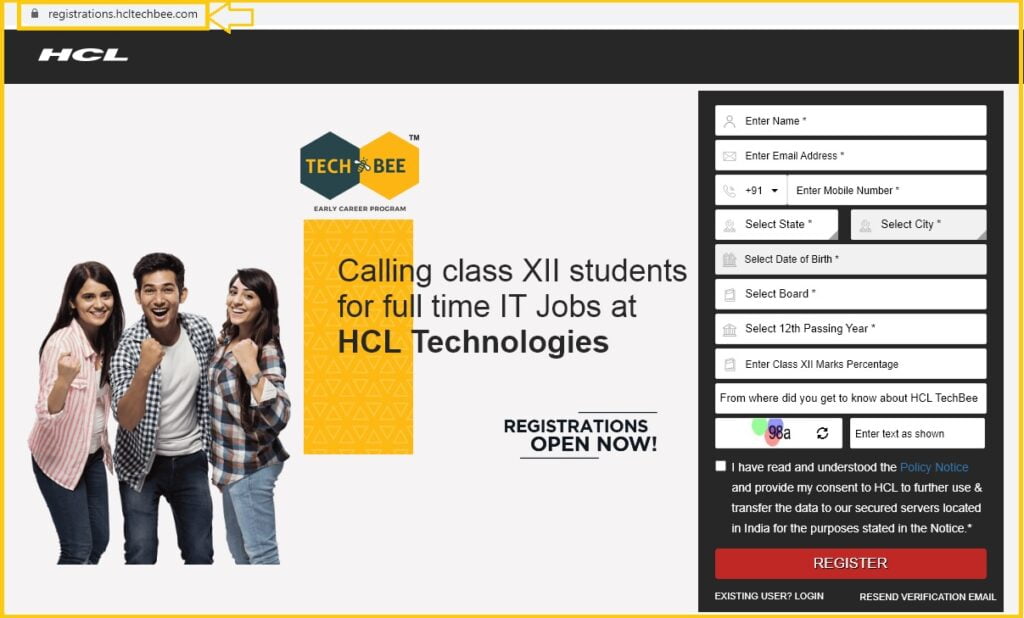 | | |
| --- | --- |
| Article | HCL TechBee Program 2023 |
| Authorised | by HCL Technologies |
| category | Training and Job |
| Eligibility | Completion of Class XII |
| Training | Duration 12 months |
| Program fee | Rs. 2 lakh + taxes |
| Stipend | Rs. 10,000/- Per month |
| Official Website | https://registrations.hcltechbee.com |
HCL Tech Bee 2023
About HCL Tech Bee Program:
HCL TechBee is an early career program, it is for aspirants waiting to get full time jobs after completion of class XII. The candidates who have been selected should undergo 12-month training program. After successful completion of training program, HCL Technologies provides full time jobs for the candidates. For full details about HCL Tech Bee Program 2023 visit HCL training & staffing services official website https://hcltechbee.com.
Training Program Areas:
Training program focuses on personality development and overall education the candidate. It had been started in the following areas:
Lucknow
Noida
Madurai
Chennai
Vijayawada
Hyderabad
Bengaluru
Nagpur
About Training Program:
This program prepare candidates for the full-time jobs
Includes Online assessments, assignments, discussions, case-based submissions etc.,
Technology Specific IT certifications
It is done in 3 steps: Foundation Training, Technology/ Domain Training, Professional Practice training.
Eligibility for HCL Tech Bee Program 2023:
Applicant should be a resident of India
Educational Qualification: Completion of Class XII (Even waiting for results)
 Subject specification: Mathematics or Business Mathematics
(Training is available now at Lucknow, Noida, Madurai, Chennai, Vijayawada, Hyderabad, Nagpur ( Bengaluru).
More info at https://www.hcltechbee.com/job-programes/
Details of Job:
After successful completion of the training, candidate can work as full time IT professional with a salary of INR 2 lakh to 2.2 lakh.
Benefits to the candidates:
Health care benefits: Medical Insurance, Family Insurance, Routine health check-ups
Discount and deals.
Entry level roles: Application and Software development, Infrastructure Management Support, Design Engineer.
Program Fee:
Annual Income: INR 2 lakh (Applicable taxes)
Financial assistance from bank is available.
100% program fee waiver (If score in training is 90% above)
50% program waiver (If score in training is 85-90%)
Selection Procedure:
The selection procedure for HCL Tech Bee is purely merit basis. The aspirants of job should attend an online test. The candidates who passed in test are selected. After that they need to attend an interview. This interview decides the correct job holder.
| | |
| --- | --- |
| Mode | Online |
| Test Fee | Rs.299/- |
| Selection Procedure | Merit basis |
| Question Type | Objective |
HCL tech bee selection procedure
How to Register in HCL Tech Bee 2023 Program?
You can easily get Sign in into website in the following procedure
Open the website using the following link 
https://registrations.hcltechbee.com/
At the homepage, you can see Sign Up option.
Enter the details like name , Email Id, Phone number.
You will get a mail.
Using that create a User name and Password.
Follow the procedure to complete your registration.
HCL Tech Bee Login
How to login to HCL TechBee?
You can get log in with website in a very easy manner.
Select the following link https://registrations.hcltechbee.com
Select LOGIN option.
Enter User name and Password.
And complete your procedure like searching details of your application etc…
HCL syllabus for written test 2023
HCL tech bee application last date 2023: 2023
FAQ's
HCL Full Form

Hindustan Computers Limited (HCL)

HCL Tech Bee 2023 Registration Link

Direct link https://registrations.hcltechbee.com/