Download ICICI Bank RTGS Form & ICICI Bank NEFT PDF Format Form 2023 for free. You can take hard copy Print from PDF Download links given below. For more info visit at icicibank.com.
ICICI Bank RTGS Form
Real-time gross settlement (RTGS)is the best and secure way of online money transfer. Many banks in India have implemented the idea, thus giving a simple registration process for their customers. The ICICI bank introduced a safe online mode, which eased transaction processes. Customers can send and receive money anywhere and anytime by using the online RTGS platform. The funds are transacted fast, and individually, the process doesn't require any duration like in NEFT cases. RBI controls the RTGS platform but doesn't issue any fixed charges giving banks a choice to charge differently.
ICICI bank
The ICICI bank allows customers to transact on RTGS a minimum of Rs. 2 lakhs and a maximum of Rs. 10 lakhs. The bank's RTGS services go for Rs. 25+GST for funds ranging between Rs.2-5lakhs and Rs.50+GST for all transactions above Rs. 5-10 lakhs. The ICICI RTGS platform works fast, giving each transaction a total duration of 30 minutes, users whose funds go beyond these times should raise a complaint to bank customer care. Though this is a rare case, the service works fast and embraces many ICICI customers.
ICICI Bank NEFT Form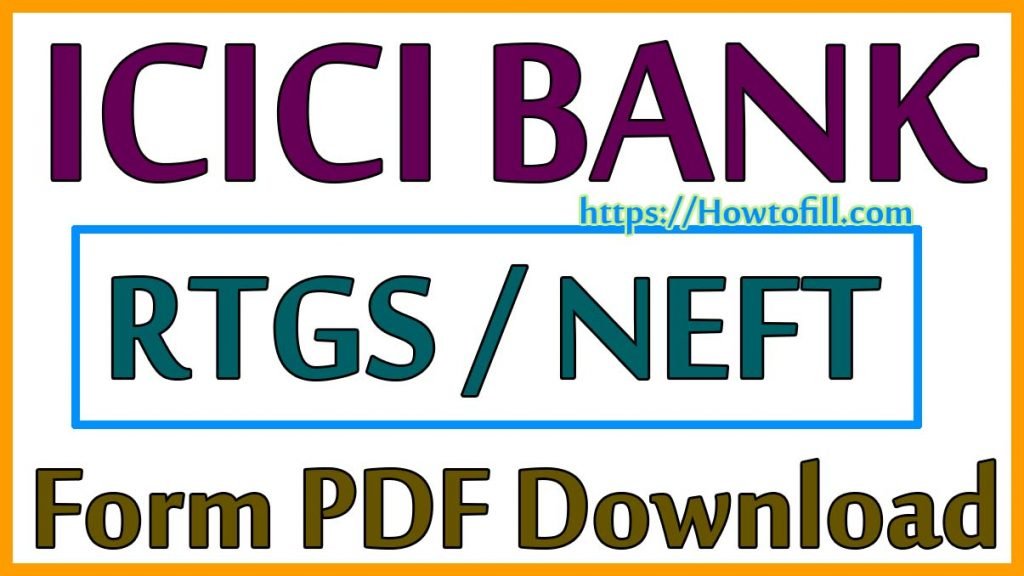 How to Fill ICIC Bank RTGS form?
The registration process is easy and can be done both online and offline; one needs to fill the application form with the right information then proceed to enjoy the service. The applicant has to fill the following details:
Enter all sender's details such as:
Name
Address
Email address
Phone number
Signature
Beneficiary information
Bank name
Account number
Name of the beneficiary
Contact number
IFSC code
The type of account.
Payment Details
The total amount to send.
Other additional charges
Applicant paying via cheque to provide cheque number.
Account number
Bank address.
On the ICICI RTGS application form, there two sections. The right page enters the beneficiary details, while the left side is the NEFT/RTGS transaction summary. 
Now fill in all the required information about the beneficiary, such as account name and type, account number, etc.
After filling the details, the bank will issue a "branch use only" tab where they give a transaction id if the amount is higher than Rs.2 lakhs.
Important Details Mentioned in ICICI RTGS Form 2023
The RTGS form is divided into two sections; one part the applicant should fill information about the beneficiary and other banking details. On the other page, the ban's terms and conditions are provided, read, and understand before submitting it.
The page states that applicants should only give correct information.
Transactions are only operational during working days.
Ensure all details are correct, and there is sufficient balance before transferring. If not, the process will be rejected.
These are some of the bank's terms, and conditions applicants should be careful during registration and transferring funds. Don't share any crucial bank information to avoid theft. The banks have a customer care desk and helpline in cases where the applicant can't send or receive cash; they can also raise other issues on the same platform.
ICIC Bank RTGS / Neft form PDF Format Download
FAQ's
ICICI Full form

Industrial Credit and Investment Corporation of India (ICICI)