The Top List of Foreign Banks in India was give below. Download list of Foreign Banks in India PDF file as on July 14, 2020 at https://rbidocs.rbi.org.in/rdocs/Content/pdfs/71207.pdf
Foreign Banks in India
Local and foreign investments measure a country's economic growth. India is an upcoming, fast-growing economic hub. With thousands of foreign investors from different sectors (services and manufacturing industries). India ranks among the sixth-largest consumer market and best in economic progress.  The country attracts foreign direct investment (FDI) working in various banking and financial sectors. 
India has several classifications of bank sectors from commercial banks, foreign banks, public and private banks.  The foreign banks (7%), however, show a positive progression in the country. Thus increasing India's economic growth (11% profit). All banks in India work under the RBI and must meet all criteria to operate in the country.  Foreign banks approved by the RBI have two prime principal to fulfill. 
Reciprocity (full national treatment in India)
Single-mode of presence. (work under regulation of RBI)
They have to meet the 5 million minimum capital mark to run a business in India. There around (or more) 46 foreign banks in India. Today we focus on some of the banks in detail. 
List of Foreign Banks in India
Foreign banks with branches               foreign banks with representative offices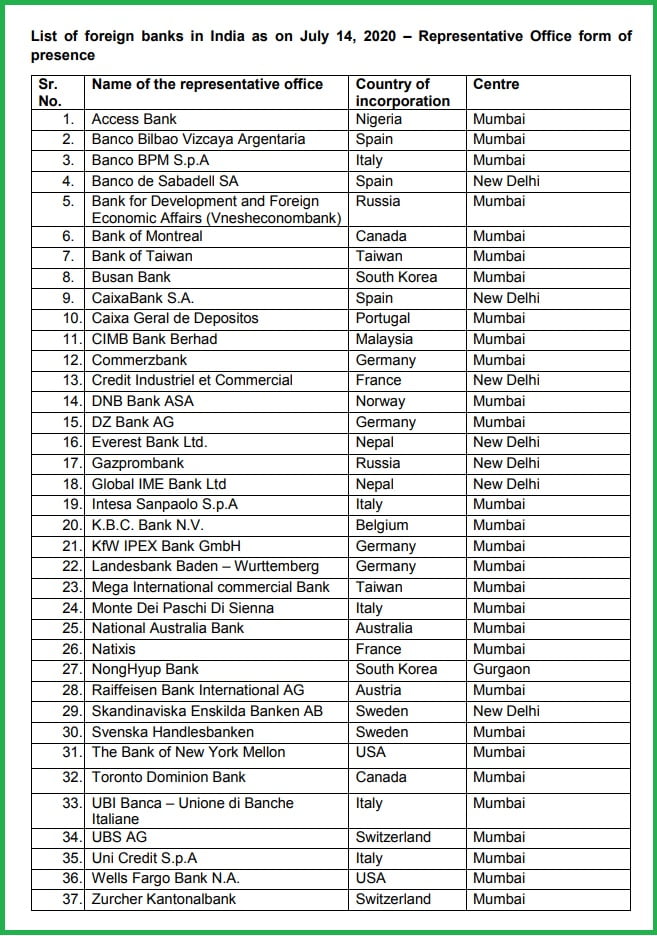 Top foreign Banks in India
All foreign banks in India play a significant role. They provide financial and insurance services to everyone without discrimination. Here we have several details about banks such as:
Citibank
The famous Citibank is an American bank which operates in India since 1902 in Kolkata. It's among the best leading foreign investors in the banking sector.  The Bank has millions of customers serving through 44 bank branches in the country.  The Bank has two service categories. 
Institutional clients groups
Global consumer bank
There are services such as Suvidha salary account, investment products, loans, insurance covers, etc.
Standard Chartered Bank
Standard Chartered Bank is a renowned bank globally with exclusive financial and banking services.  The Bank originates from Britain and has significantly invested in India.  It has 100 branches in 43 cities in the country.  Standard Chartered offers various products and services such as saving accounts, personal and group loans, deposits, mortgages, credit cards, etc. 
HSBC bank
The global HSBC bank is unique for its financial and banking services offered to all citizens.  The non-discriminatory Bank also has a Britain origin.  It's also an Indian subsidiary of HSBC holding plc. It's headquartered in Mumbai, Maharashtra.  HSBC bank serving customers in three categories:
Retail banking and wealth management.
Commercial banking.
Global banking and markets.
Deutsche Bank AG
The German bank ranks among the top best banks in the country. It's present in 58 countries in Europe and was established in 1870 (Berlin). The Bank's headquarters are in Frankfurt, Germany, and it has significant financial and banking influence in India.
DBS bank
DBS, meaning Development bank Singapore is a famous bank in India that provides banking and financial services. The Singapore international banks work to create ties between India and Singapore. There 12 branches in the country, all provide quality banking services to all citizens.
Barclays Bank
There is a British global investment bank which is headquartered in London. The Bank offers services in 40 countries across Europe. Africa and the Middle East, Asia, and America. It has been operating in India since 1190, providing services such as corporate and retail banking, insurance, loans deposits, debit, and credit cards.
Royal Bank of Scotland
It's popularly known as RBS bank; it's among the top leading banks in India today. The bank headquarters are in Edinburgh with millions of customers internationally.  The Bank was established in India in 2003 (microfinance business). Today the Bank has expanded its financial and banking service, providing customers with saving account services, deposits, loans, cheques, and many more services. 
India has a long list of foreign banks (shown in the image above) serving all customers with financial and banking services.  The banks are approved to operate in the country by RBI, making them the best banking partners.
Download Foreign Banks in India 2021 from RBI website Here