A guide on Axis Bank Mini Statement: Axis Bank Mini Statement, Missed Call, SMS, ATM, net banking. Axis bank mini statement whatsapp number. Axis Bank Mini Statement Number 2023. Axis bank last 5 transaction number
Axis Bank is renowned banking and financial institution with multiple banking facilities. The bank serves millions of customers in retail and corporate services. It has advanced technology that allows customers to access services via smart devices. Customers can avail of banking services such as SMS, mobile banking, internet banking, and missed calls through offline and online platforms.
Axis Bank Mini Statement
Axis Bank allows customers to access the account data regularly. Customers can request account statements anytime without consulting the bank. This helps monitor account activities through a mobile device. Bank statements offer comprehensive financial details within a document. Axis Bank registered members can register their mobile numbers to avail mini or complete statements online or offline.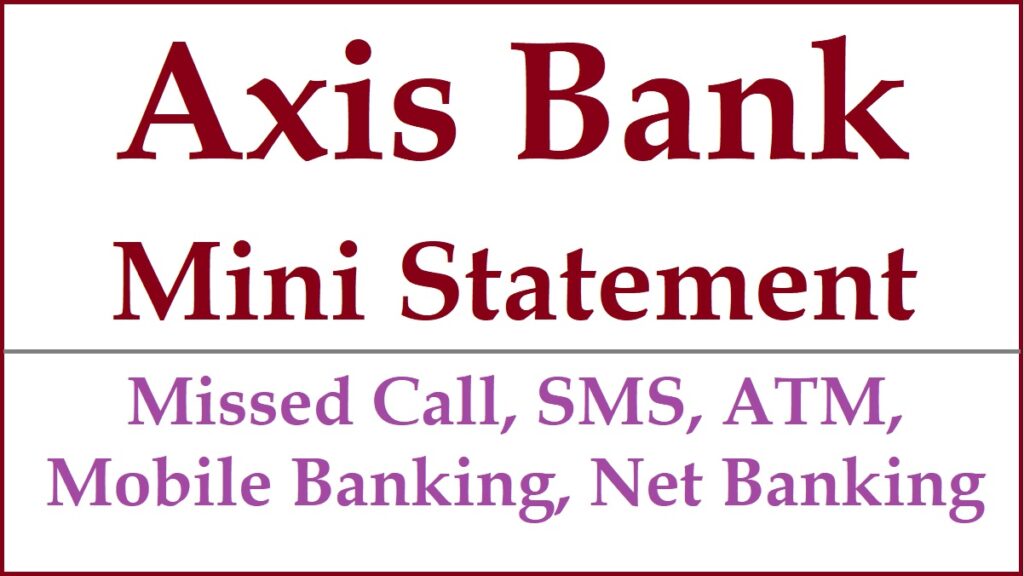 Mobile Number Registration 2023 with Axis Bank
Register Mobile number
Most banking services require a mobile number for easy verification and access. Axis Bank customers can register their active mobile numbers to access various banking services.
To register, visit the bank branch and request to update or register your mobile number.
Visit any Axis Bank ATM to register your mobile number.
How to Register a Mobile Number at Axis Bank ATM
Visit the ATM and insert or swipe your ATM card.
Enter your PIN and proceed to the "registration" section.
Next, select the "update mobile number" option.
The system will request the user to update the mobile number.
Re-enter the number to confirm and save the details.
Account users with registered mobile numbers and wish to change to new contact can visit the bank to update their contact details.
Ways to Check Axis Bank Mini Statement
Using SMS banking
Mobile banking
Missed call service
Internet banking service
Visiting the ATM
Axis Bank Mini Statement Miss Call Number
How to check Axis Bank mini statement via missed call or enquiry number
Through the registered mobile number, call the bank's toll-free number for a mini statement service. The system provides the user with English and Hindi language as follows.
Give a missed call to the number 1800 4196969 (English) (or) 18004196868 Hindi.
The call will disconnect after a few rings.
An SMS containing recent transactions will display on the screen.
Axis Bank Mini Statement by SMS
Steps to check Axis Bank Mini Statement using SMS banking
SMS service is simple and readily available on all mobile devices. The mini statement is free, but the SMS is chargeable based on the network provider.
Type "Mini <space>account number send to 9717000002 or 5676782.
Account users can also use the e-statement facility to access their mini-statement as follows:
Type " ESTMT <last 5 digits of account number> date from >< date to> send to 9717000002 or 5676782
The date format should be dd-mm-yyyy.
Axis Mini Statement Using Mobile Banking
Axis Bank has various mobile banking apps available on the Google play store or App store.
Axis mobile
Get the Axis mobile app from your device
Install and register the required details to access login details.
The app will send a verification SMS to the registered mobile number.
Create your preferred login MPIN and confirm to proceed.
The page will show various options such as Axis bank balance enquiry, Axis mini statement, fund transfer services, and more.
Click the mini statement option to access recent transactions on the screen.
Axis OK
The Axis OK app is only accessible on Android devices. Account users can utilize the app online or offline. The user needs to request a particular service like the mini statement to avail of the last transactions on their account.
How to Access Axis Bank Mini Statement Using Internet banking
Step by step to Access Axis Bank Mini Statement Using Internet banking
Go to the official Axis Bank website portal.
https://www.axisbank.com/
Enter your user ID and password to log in.
The page will display various options such as mini statements, utility bill payments, mutual funds, etc.
Choose the mini statement option to get recent transactions on your account.
Download the statement for reference.
How to Get Mini Statement by Visiting the ATM
Visit the nearest Axis Bank ATM.
Insert your card and choose your preferred language.
Enter the card access PIN to proceed.
Select the "banking services" option.
Choose the "small statement" tab
The transactions will show on the screen.
Request for a printout for reference.
FAQs
Can I request my bank mini statement at the bank branch?

Yes, it is possible to access a mini-statement at the bank branch during working hours.

How many transactions are available on the mini statement?

The document contains 5 to 10 recent transactions.

Axis bank mini statement whatsapp number

+91 7036165000

Axis bank mini statement sms number

Type "Mini account number send to 9717000002 or 5676782.

Axis bank last 5 transaction number

Dial 1800 419 6969 to get axis Mini Statement