Karnataka BMTC LMS Leave app: Leave Application 2023 using Kiosk BMTC Leave APP. ಬಿಎಂಟಿಸಿಯಿಂದ ಹೊಸ Leave Management at http://ems.mybmtc.com/BMTC/login.php
BMTC LMS
Bengaluru Metropolitan Transport Corporation (BMTC) is a famous public road transportation system that helps thousands of daily commuters. The corporation works under the Karnataka State government serving the Bengaluru regions. BMTC has been serving the state and Bengaluru metropolitan since 1997 after splitting from Karnataka State Road Transport Corporation. The service offers multiple buses, such as old ordinary buses, Parisara Vahini buses, and new buses from the JNNURM scheme. BMTC theme color is white and blue based on the type. ಬೆo.ಮ.ಸಾ.ನಿಗಮ ಆನ್ಲೈನ್ ರಜೆ ನಿರ್ವಹಣಾ ವ್ಯವಸ್ಥೆ.
BMTC offers employment to many Karnataka citizens (conductors, drivers, managers, and more), all serving various routes. The employees are entitled to salaries, allowances, and leave days. However, like in many sectors, workers face challenges while seeking leave permission. Some managers are harsh and deny employees their leave rights. This can cause frustration to workers making them respond harshly to commuters.
Ems.mybmtc.com/BMTC/login.php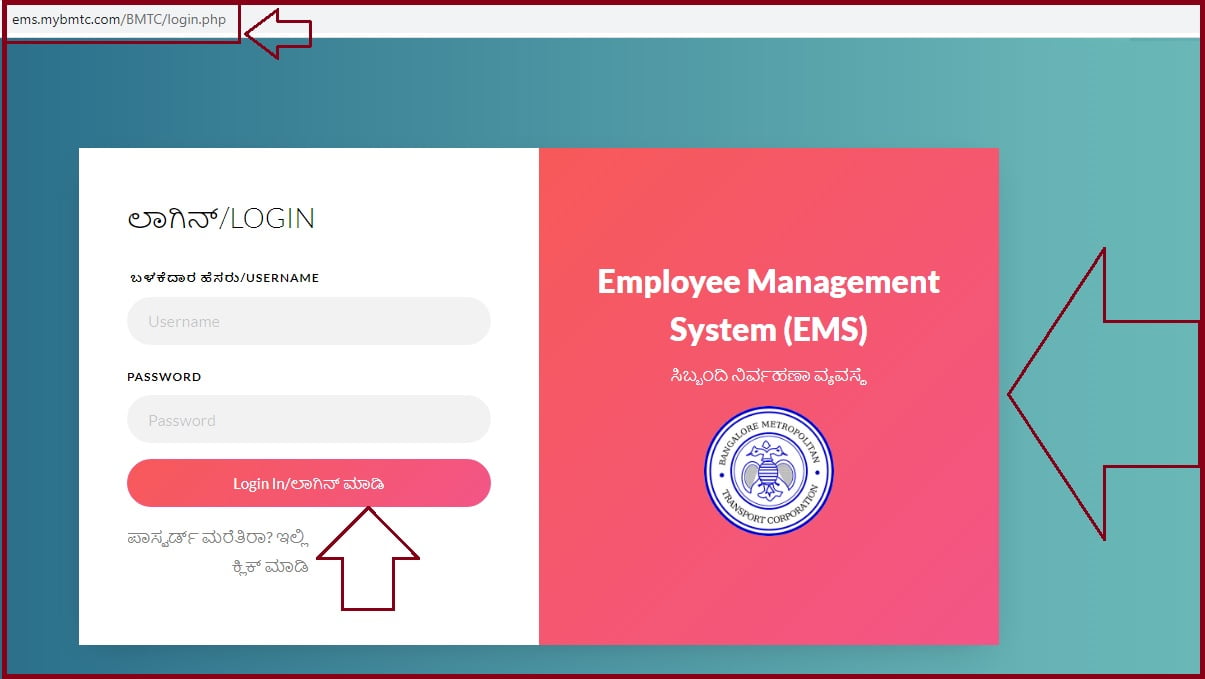 BMTC LMS Leave APP
Leave Management Kiosk APP
However, to solve the leave issue and have a transparent system in the BMTC sector. The Transport Minister and city –in charge Ramalinga Reddy has launched a digital leave app. The leave management kiosks allow employees to request leave online. BMTC employees can use the online system without visiting their manager's offices to request leave. This enhances transparency and accountability in the transportation sector.
Employees will get a smart card to use the leave app. the government intends to provide more BMTC kiosks in different depots. The system uses a touch screen, making it easy to operate like a mobile phone. It also has advanced features like voice assistance, giving users two languages, English and Kannada.
Available Services on the Leave APP
Requesting for leave.
Leave balance
Employee's leave status
Users leave history
Application and canceling process
Once the leave is approved, the respective employee will receive a receipt and SMS on their mobile number.
How to Apply for BMTC Staff Leave Through Kiosk APP
Steps to apply for leave on leave app
Visit the official website http://ems.mybmtc.com/BMTC/login.php
Enter your username and password and press the login tab.
The official BMTC leave page will open; check your leave balance before applying for any leave.
However, one can apply for emergency leave by giving good reasons.
Benefits of BMTC LMS leave the Kiosk APP
The application is easily accessible and easy to use.
Employees can operate using the preferred language (English or Kannada).
The applicant doesn't have to visit the offices physically.
It's transparent and offers accountability in the transport department.
BMTC leave app is regularly updated and offers employees comprehensive leave details like history, status, etc.
After approval, the user will receive an SMS and a receipt.
Managers can follow up on employee details online.
Note the kiosk leave app-only offers to leave to 10 % of employees. Once the threshold is reached, other employees must request leaves from the managers. However, the government and transport department aims to improve the system and add more kiosks at the various depots.
FAQ's
EMS Full Form

Employee Management System (EMS)

How many kiosks are already set in Gulbarga?

The Transport Minister has established 36 Kiosks and working to introduce more.

LMS Full Form

Leave Management System (LMS)

BMTC Full Form

Bengaluru Metropolitan Transport Corporation (BMTC)