BOI HRMS Bank of India Employee ESS Login, Download BOI Salary Slip 2023. BOI HRMS Registration 2023. Bank of India HRMS Employee Login to Manage ESS. How to Download Pay Slip 2023 of Bank of India at BOI HRMS Portal at https://hrms.bankofindia.co.in/
BOI HRMS
Guide on BOI HRMS Portal: Registration, Services, BOI HRMS Login and more
Employees are a great pillar in every organization. They help provide quality services, market the brand and keep the Company business running smoothly. To thrive, most businesses implement employee programs such as the HRMS portal to access salary details easily. The Indian Banking sector hasstrategic systems to cater for employee needs.
Bank of India, a 1906 establishment, provides superb services to its customers countrywide. The bank offers incredible services to all employees in different ranks. BOI has developed an effective management system called the Bank of India Human Resource Management System (BOI HRMS).
This management system ensures efficient services to its employees, like; downloading salary slips online, holiday calendars, checking pension details, providing funds, salary details, and many more. The BOI HRMS portal has made it efficient for employees to be served and acquire information online.
Benefits of the BOI HRMS Portal
If retired, you can examine your pension status online without visiting the BOI HR offices.
The page offers updates like the latest news and new bank policies.
Informs employees about their holiday so that they can plan accordingly
 Employees are able to apply for their leaves without physically requesting from the offices.
The BOI HRMS Services
This portal offers services like;
Gratuity nomination
Account transaction history
Holiday calendar of BOI
BOI account balance
Appraisal and leaves of employees
Employee salary and pension slip
An applicable pension plan for employees
Downloading account statement of BOI account
Status of closed or active loan
Reimbursements and information on medical facilities to employees
Provident fund nomination
BOI HRMS Registration 2023
To access the BOI HRMS services, employees need to register themselves on the HRMS BOI staff portal. All they need to do is send an email to the email ID- Feedback.boialumni@bankofindia.co.in.Containing the following details;
First, middle, and last name
Date of birth
Joining date
Date of Retirement
Designation
Email address
PF number
The previous posting details
The employee is registered and receives a confirmation message, password, and user ID.
BOI HRMS Login
How to login to BOI HRMS Portal
Only the registered employees can log in to the BOI HRMS portal to benefit from online digital services. The employees can log in by inserting their password and user ID by following the following procedure;
Log into the official website of BOI HRMS through link https://hrms.bankofindia.co.in:6443/psp/HRPROD/?cmd=login&languageCd=ENG&
The home page will appear on your screen
Proceed to the login page
Key in your password and user ID/MMS ID.
Next, verify your details using an OTP code sent to your registered mobile phone.
Once verified, press the login button to access the account.
Hrms.bankofindia.co.in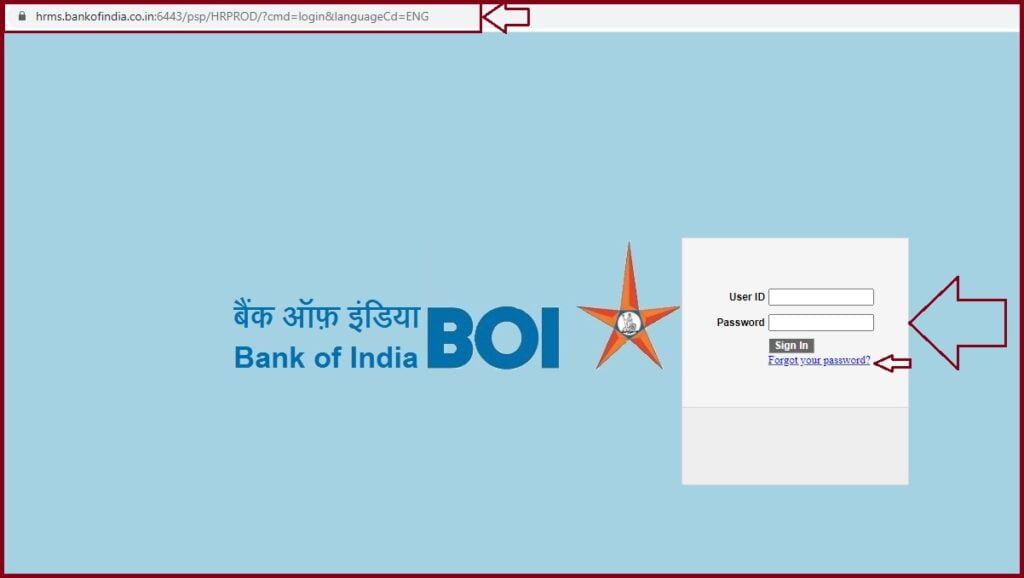 How to Reset BOI HRMS Login Password
In case an employee forgets or needs to change their password, they need to follow the following guidelines;
Navigate to the official website of BOI HRMS through https://hrms.bankofindia.co.in:6443/psp/HRPROD_FP/EMPLOYEE/PSFT_HR/c/Z_PASS_FOR_MNU.Z_PASS_CH_CMP.GBL
Press the Forgot Password option.
Key in your employee ID, answer the question, and tap the submit button.
You will now be allowed to enter a new password and be asked to confirm it
Tap on the submit button again
Your password will be reset successfully
BOI HRMS Mobile Banking
The Application Process for BOI HRMS Mobile Banking
An online passbook is an essential example of mobile banking. This application can be made by android or IOS mobile users through the following steps;
Visit the Google Play Store (or) Apple Store
Download the BOI HRMS mobile app and Install it to proceed.
Open the BOI mobile banking app and activate the app.
To view your passbook, visit BOI mobile banking.
Press on m-passbook and check your passbook details.
How to Download Pay Slip of Bank of India at BOI HRMS Portal
Steps to download the BOI pay slip online at BOI HRMS website
Log into the official portal of BOI HRMS
https://hrms.bankofindia.co.in:6443/psp/HRPROD/?cmd=login&languageCd=ENG
Next, view the control panel on your screen
Enter your main menu link and click on self-service
Proceed to view my BOI pay slip
Enter the month, and year you need to access your pay slip and click on the search.
You will now view your pay slip on the screen
Tap on the Yes option to generate your pay slip
Press the Run Report button to generate your pay slip
You will receive a confirmation message containing your 'save pay slip link.'
Click on the link to download your monthly pay slip pdf file
What is BOI HRMS?

The BOI HRMS is a management system introduced by the bank of India to ensure that its employees are served and acquire information online.

What services are offered by BOI HRMS?

The BOI HRMS portal provides various services such as; checking pension details, holiday calendar, providing salary details, providing funds, downloading pay slips, etc.

What are some of the details required for BOI HRMS registration?

For employees to register for the BOI HRMS portal, they need to send an email to the email ID-Feedback.boialumni@bankofindia.co.in.Containing; the full name, date of birth, email address, joining details, PF number, and designation.

BOI Full Form?

Bank of India (BOI)