Quick Ways to check dhanlaxmi bank balance check number, SMS. Dhanlaxmi Bank Missed Call Balance Enquiry Number. How to Check Dhanlaxmi Bank Account Balance. Dhanlaxmi Bank Balance Enquiry Number 2023
Dhanlaxmi Bank
Dhanlaxmi Bank is serving its 96th year since its establishment. The popular private sector bank has gained traction in the banking industry. There are 245-281 branches across India providing multiple banking and financial services. Registered members get the privilege to access various services such as credit cards, mortgage loans, investment banking, private banking, finance and insurance, corporate banking, etc.
The services are available through online and offline platforms for easier access. Dhanlaxmi Bank caters to its customers' needs by availing financial services on the devices. Account users can trace their bank balance, statement, and other transactional services on a mobile phone. Dhanlaxmi Banks links users' mobile number bank accounts for fast data retrieval.
Ways to Check Dhanlaxmi Bank Balance
To access your balance details, the user can use the following details:
Customer care number
Missed call
Through SMS
Mobile banking
Visiting the ATM
Using Internet banking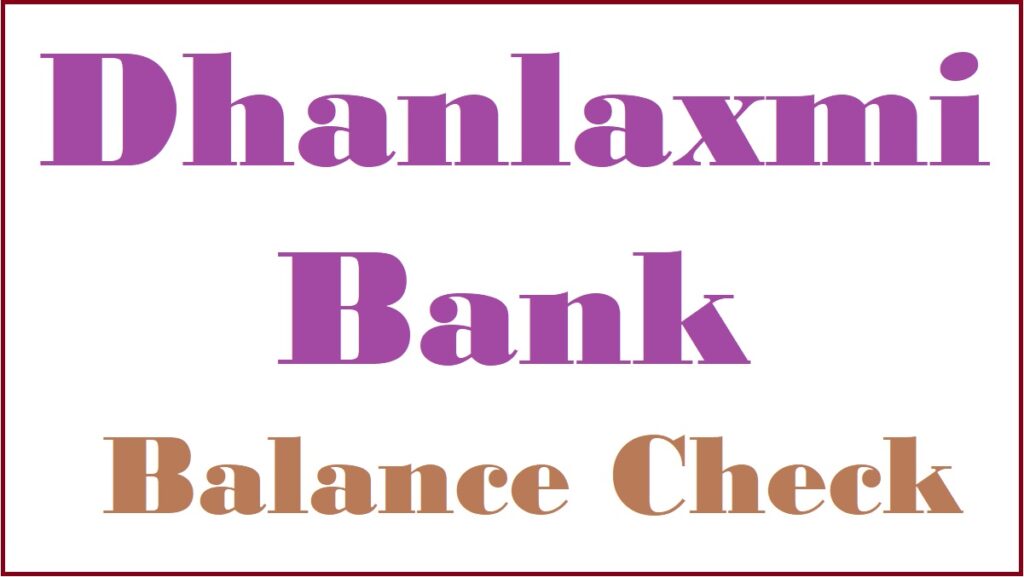 How to Check Dhanlaxmi Bank Balance Giving Missed Call
Missed call services are pretty easy to use and don't require any internet connection. The process required users to register their mobile numbers with the bank for fast processing. The information is delivered through an SMS to the same number.
The official balance missed call number is +91 8067747700. One should call from the registered mobile number. After a few rings, the system will disable the call and process an SMS containing the account balance.
It's possible to check bank statement services using missed call services as follows:
Last three-month e-statement: +91-80-67747711.
One day statement:+91-80-67747733
Disabling or enabling a debit card: +91-88-93553553.
Missed call service is limited to five times per day. However, further use will remit an Rs. 1 charge for every use.
Dhanlaxmi Bank Balance Check Number
Balance check using customer care enquiry number
Dhanlaxmi bank provides flexible ways to avail banking services. Customers can call customer care services and enquire about any service. For balance enquire, account users should call the number 1800 425 1747.
Using your registered mobile number, call 1800425 1747.
Choose your preferred language to continue.
Next, follow the IVR system to get the balance via SMS.
How to Access Dhanlaxmi Bank Balance via Email
The bank's official email ID is open to all registered customers. One can request account bank balance details by sending an email to customercare@dhanbank.co.in. Enter all information regarding your account and send it via the registered email ID with the bank.
Balance Check OF Dhanlaxmi Bank Account Using SMS
The SMS method is also simple and available through different mobile devices.
Through the registered mobile number, send an SMS:
Dhanlaxmi Bank balance via Internet Banking
Go to the Dhanlaxmi bank internet banking website https://www.dhanbank.com/.
Enter your login credentials to access the account.
Proceed to the account details to avail various options.
The account balance will show on the screen.
How to Get Dhanlaxmi account balance by visiting the ATM
Dhanlaxmi Bank has more than 258 ATMs in the country. Bank users can visit any machine for balance check services.
Go to the nearest Dhanlaxmi Bank ATM.
Insert your card and enter your debit card PIN.
Next, select the "balance enquiry or balance check" option.
The ATM will display the available balance on the screen.
The user can get a receipt for the service.
Dhanlaxmi Bank Balance using DhanSmart APP
Dhanlaxmi Bank, a mobile banking service, offers multiple banking services, including balance checks. It's an app allowing users to bank from anywhere without restrictions. The account holder must download and install the app on their Android or IOS device.
Visit the DhanSmart APP.
Enter your MPIN/Biometrics to log in.
For account verification, enter your debit card details to continue.
Next, click the "My account" option.
The page will display the account details, including the available balance.
How to check Dhanlaxmi's balance using DLB UPI
The BHIM DLB UPI helps the user with financial transactions and simple services like balance enquiry.
Open your BHIM DLB app and key in your MPIN to proceed.
Choose the "check account balance" option.
Again enter your UPI PIN to avail the account balance.
FAQs
What balance enquiry platform doesn't require a mobile number to operate?

Account users' without their mobile numbers can check their Dhanlaxmi bank account balance by visiting the ATM or using mobile banking or internet banking services.