DND Filter: Stop Spam Calls, DND activation for airtel, jio, Vodafone – idea, bsnl. How to De-activate DND Feature on Your Device. How to activate dnd in your mobile. How to Activate DND on Your Mobile Network
Effective Ways to Block Spam Calls by Activating DND Filter
A spam call is the last thing one would wish for on a busy day. The frequency at which telemarketing companies call is irritating and sometimes irrelevant to your daily schedule. This interrupts one's mind and mood. To avoid such calls, the TRAI, or Telecom Regulatory Authority of India, has set majority restrictions to curb the behaviour. However, some organizations tend to send messages and calls despite the rules.
Types of spam calls
Spam messages and calls are mainly from marketing sources such as insurance, banking providers, educational institutions, real estate, and more. To stop the regular calls, telecom providers advise on the DND filter facility. There are legal DND numbers to help block various marketing services as follows:
DND Filter
Do Not Disturb (DND) is a household name, especially for users receiving spam calls. TRAI develops features to help telecom subscribers from receiving spam calls and messages. India has various telecommunication providers, each responsible for providing users with simple DND procedures. This allows subscribers to follow the instructions on their devices to block unwanted calls.
All mobile numbers registered with the DND facility will not receive marketing calls. The rule provides the user with the authority to sue or file a complaint against the caller. Mobile users should register for the DND service through their telecom operator's procedure.
How to Activate DND on Your Mobile Network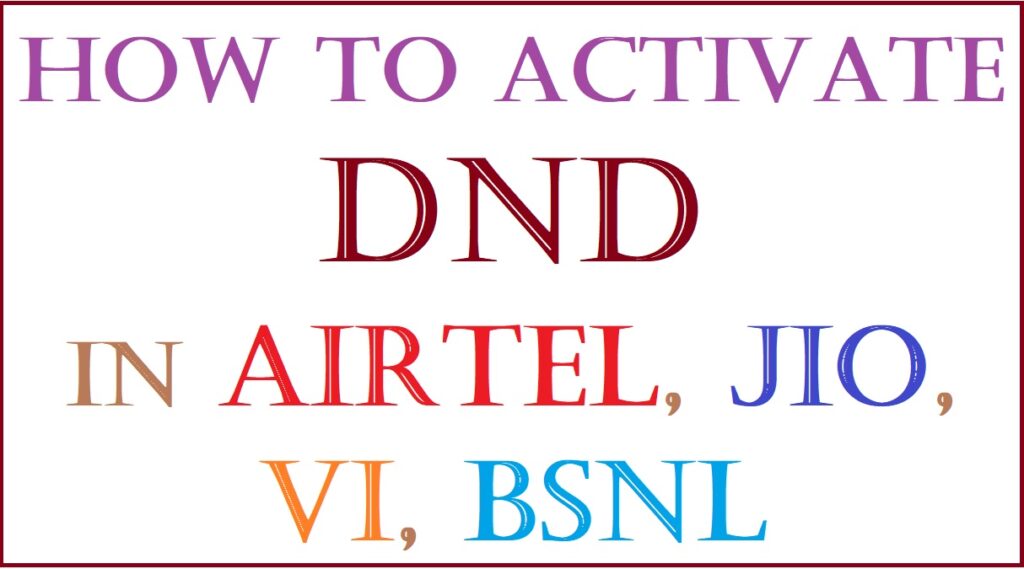 Steps to Activate DND on your mobile number
The activation process is simple as follows.
According to your telecom provider, go to the messaging app on your device.
Next, create a new message and type in capital letters "FULLY BLOCK."
Now, send the message to the number 1909.
The system will automatically block spam calls and messages on your mobile number.
How to De-activate DND Feature on Your Device
To enable marketing calls and SMSs, the user can send a message as follows:
Open the messaging app on your device.
Type "STOP O" and send it to 1909.
One can also call the number and follow the IVRS instructions.
It's possible to receive selected marketing calls/SMS by choosing the sender. For example
Type: STOP <space> preference number > send to 1909.
For example, for health messages, send STOP 4 to 1909.
The deactivation process is effective within 7 working days. The user can call the number 1909 using the registered mobile number. However, you can send "START DND" to 1909.
How to Block Irritating Marketing Spam Calls
Steps to register for DND for various service providers: Airtel, Jio, and VI
Telecom subscribers from Airtel VI and Jio can register for DND services using the steps below.
Airtel DND Activation
step by step to Activate DND on Airtel Number (Prepaid or Postpaid)
Visit Airtel Thanks App.
Click the "more" button and select the "manage services" option.
Next, tap the "Activate/Deactivate DND" tab.
Choose a spam category you want to block and press submit button.
How to Activate dnd in Jio
step by step to activate DND on a Jio SIM network
Go to My Jio App on your device.
Select the menu to open different options.
Click the "profile and other settings" tab.
Press the "set preference" and choose a preference
Recheck the details and submit the request to block any spam calls/SMS.
Activate DND in Vodafone-Idea (VI)
step by step to activate DND on Vodafone via APP
Open the Vodafone-Idea app.
Click the "My Account" button to proceed.
Next, select the "More services" option.
Click the "DND" tab and select the preferences: Full DND, block promotions, or partial DND.
Click the activate button to block spam calls and messages.
BSNL DND Activation
Send an SMS indicated as "START 0" to 1909.
Available DND Activities
Telecom users can access the following activities through SMS service.
Viewing the status.
Enabling complete blocking
Partial blocking
Disabling DND.
To learn more about the details, the user can text "Help" to 2442. For example
Type "ALLOW" and send to 2442 to receive texts
Enter "STATUS" to 2442 to verify DND status.
Subscribers can text the following preference to 2442 for partial DND.
Text 1 for banking/insurance and financial products
2 for property
3 for education
4 for health
5 consumer items and automobiles
6 IT and communication.
7 for tourism and entertainment
8 to get sports
9 religion details
9a to avail Christian details
9b for Islam
9c for others
10 to new products and service information.
11 to avail text alerts.
How to Register for DND Complaint
Registering for DND complaint
Once subscribers activate DND, they can file a complaint for any disturbing caller. The user should call or SMS the complaint for 1909 or use the DND app.
Send UCC <UCC telephone number> dd/mm/yy send to 1909.
The subscriber can send the complaint to NCPR using the 1909 number.
Also, the TRAI DND 2.0 app for any complaints.
FAQs
Can I allow some marketing calls and SMS while active on DND?

Yes, the user can set a partial DND; they can select their preferred marketing calls by texting the correct number.

What does DND mean?

The abbreviations mean Do Not Disturb.

DND Full Form?

Do Not Disturb (DND)