Incredible Banking innovation of India Post Payment Bank Digital Saving Account Online. India Post Payment Bank Zero Balance Account opening 2024. How can Open A Post Office Savings Account more at ippbonline.com/web/ippb/saving-account.
India Post Payment Bank
Modern banking and financial institutions are incorporating digital facilities to conduct most services. The transformation enhances security, saves time, and provides better financial tracking services. Digital banking enables users to transact funds from anywhere without visiting banks. It also allows international transactions where the sender can transfer funds without restrictions. Technology has introduced various systems, such as e-wallets, mobile apps, and digital accounts.
The Indian banking sector has adopted the new digital system, allowing customers to transact from the comfort of their homes and offices. The India Post Payment Bank (IPPB) is a renowned bank under the India Post, Department of Post, and Ministry of Communication Government of India. The bank has been operating since 2018 and has millions of registered members.
India Post Payment Bank Account Opening Online
IPPB bank has advanced to a digital system that helps customers conduct bank services through a smart device. The bank has developed a Digital saving account that works as a mobile application. IPPB customers seeking online services can download the digital saving account from Android and IOS devices. However, customers must fulfill the required qualifications.
Ippbonline.com/web/ippb/saving-account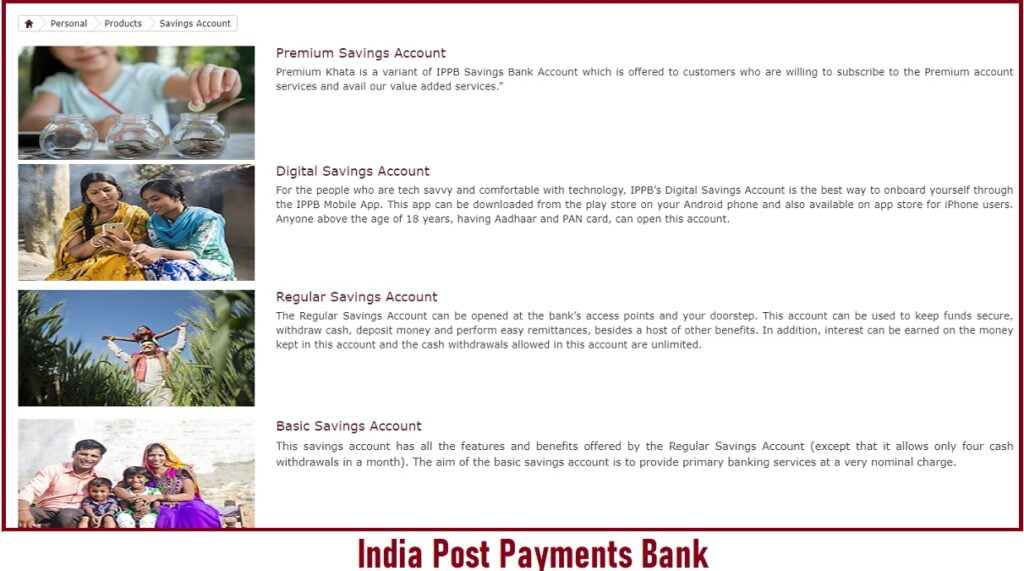 IPPB Digital Saving Account Features and Benefits
There are multiple features describing the saving account as follows:
Users can bank from anywhere without visiting the bank.
There is no minimum average balance, meaning no maintenance fee.
It's easy to bank using the digital saving account as customer can check their balances, statements and transact online.
The account customer care is bilingual/multilingual to help solve different customer issues.
The process is easy to download, and no paperwork is required.
Digital saving accounts provide various banking services like balance checks, account statements, bill payments, etc.
Eligibility Criteria for IPPB Digital Saving Account
To qualify user must be 18 years and above.
One must complete the KYC formalities within or before 12 months. Note if the account user doesn't complete the details, the bank will close the account.
To do the KYC process, the IPPB account user should visit the bank branch, access points, or GDS/postman. Once the details are registered, the account is upgraded to a regular saving account.
The bank permits a maximum cumulative deposit of Rs. 1, 20,000 on the account.
After completing the KYC details, the digital saving account is attached to the Post office saving account (POSA)
The digital saving account allows for payment in merchant stores and post office saving programs.
There is a 2.25% interest rate for any balance below Rs. 1 lakh.
Applicant should provide their Aadhaar number or PAN number.
How to Open India Post Office Digital Savings Account Using IPPB Mobile APP
Step by step to IPPB APP Download and Open India Post Digital Savings Account
First, download the IPPB mobile banking app on your smartphone.
Once downloaded, proceed to the "open account" option to continue.
Next, enter your PAN number or Aadhaar number.
The system will send an OTP to your mobile number.
Enter the OTP code to verify and proceed to a new page.
Next, key in the required details, such as the mother's name, education qualifications, and address details, as indicated in the Aadhaar card.
Proceed to nominee details; one can skip and fill in later or opt to complete the nominee details.
Review the information and click confirm button.
The system will review the data and send account details/login credentials.
Use the login data to access the mobile banking app and digital saving account.
Download IPPB Mobile Banking APP link
FAQ's
When should I register my KYC details for IPPB digital saving account?

The bank requires every registered user to complete their KYC data before or within 12 months.

What happens after KYC Registration 2024?

The account advances to a regular saving account. Customers can conduct any banking services through a saving account.

IPPB Account Full Form?

India Post Payment Bank Account

Ippb online Account opening online

https://www.ippbonline.com/web/ippb/saving-account

DOP internet Banking 2024 Website

https://ebanking.indiapost.gov.in/
Guide on India Post Agent Login visit this link