2023 Gujarat Khel Mahakumbh registration and sports details& ખેલ મહાકુંભ 2023 ગુજરાત at https://khelmahakumbh.gujarat.gov.in (or) khelmahakumbh.org
Khel Mahakumbh 2023
Sports men and women make nations proud by bringing various medals. It's a good feeling when the national anthem plays and medals are rewarded to winners. Sports encourage cohesiveness and talent growth among young people and adults. India encourages residents to take up various sports by providing ample support to all teams.
Each year Gujarat State government, through the Sports Authority of Gujarat, offers sports personnel a chance to participate in an organised event. The KhelMahakumbh platform is an online site open to Gujarat residents interested in sports activities. The program allows users to register for different sports events. Participants can also check eligibility criteria, age limit, games offered, prizes, schedule, and timetable.
ખેલ મહાકુંભ 2023 ગુજરાત
Gujarat Khel Mahakumbh accommodates all residents, from young to seniors. This year (2023), Gujarat Khel Mahakumbh is expected to provide 28 games. Athletes can register for their favorite games and perform to receive the best prizes. The government and sports department can recognize talents that are natured and promoted to represent the country.
The 2022 11th edition of Khel Mahakumbh sports will take place at Ahmedabad's Sardar Patel stadium. Registrations started on 18th Feb 2022, while 17th Feb was the curtain raiser event. Eligible participants should fulfil the criteria and register before closing (March). To avail of any information, one can visit the official KhelMahakumbh page via the link https://khelmahakumbh.gujarat.gov.in/.
Khelmahakumbh.gujarat.gov.in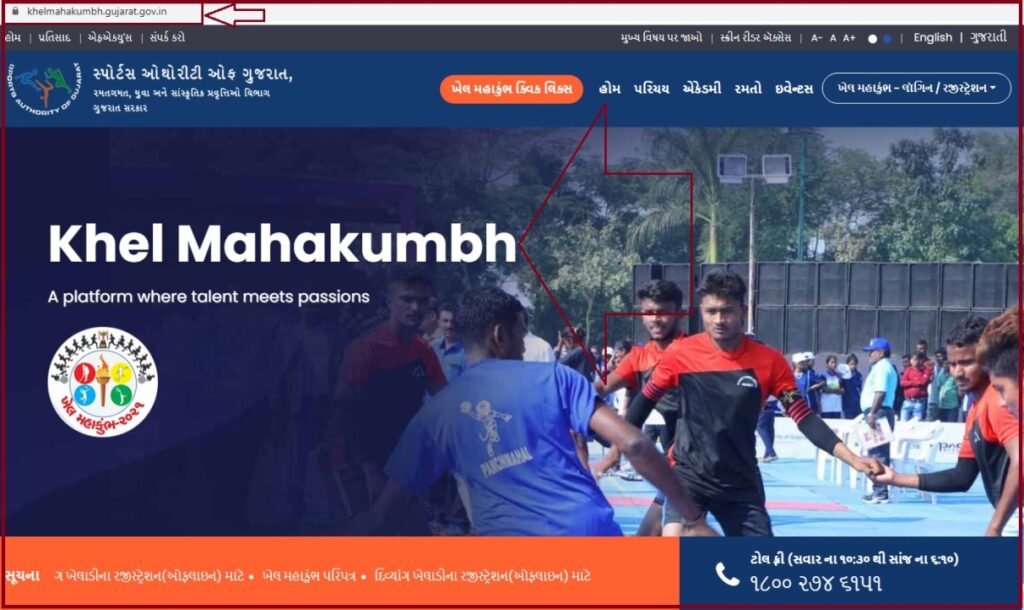 Eligibility Criteria
Applicants can be either male or female.
All caste categories can participate in the games.
No age limit but candidates must be in their respective age gap during the competition.
Team coaches should register their teams.
Physically challenged participants can join the sports.
Available Gujarat Khel Mahakumbh Games
The program provides 28 games; applicants can play individually or within teams. There is no limitation as individuals can select their best game.
Archery
Athletics
Basketball
Badminton
Table tennis
Taekwondo
Yogasan
Artistic skating
Handball
Hockey
Volleyball
Wrestling
Weight lifting
Kho-kho
Shooting ball
Swimming
Skating
Shooting
Cycling
Football
Chess
Judo
Kabaddi
Lawn Tennis
Tug of war
Gymnastics
Karate
Boxing
Age Groups to Participate in Khel Mahakumbh Sports Programs 2023
The Gujarat Khel Mahakumbh sports don't have a specific age limit. Interested residents can participate at their respective age gaps.
9 years and below.
11 years and below
14 years and below
17 years and below
Open age
40 years and more
60 years and above.
Khel Mahakumbh 2023 Registration
Step by step process for Gujarat Khel Mahakumbh registration 2023 process
Visit the official Khel Mahakumbh website portal "https://khelmahakumbh.gujarat.gov.in"
Click the "KMK-login/register" option on the homepage
Choose the register button to open the registration page.
Enter the required information to create an account and gain login credentials.
After registration, proceed to the login page and press the login button to access the account.
Click the "player/school/college" option
Next, enter the reference number, password, and captcha.
Review the information and press the login button.
Open the dashboard
Fill out the application form, and upload the mandatory documents.
Click submit button to complete the process.
Khel Mahakumbh
2023 Application Statistics
Total Registrations: 5579888
Male Registrations: 3211931
Female applicants: 2367957
Registered teams: 206613
Male teams: 126162
Female teams: 80451
The government and sports authority offer winners cash prizes. Winners will be determined based on districts/Taluk, age, etc. Gujarat residents can check more details from the official website page.
Khel Mahakumbh Toll Free Number

+91 18002746151

www.khelmahakumbh.org registration

https://khelmahakumbh.gujarat.gov.in/