Overview on MGNREGA Job Card, What is MGNREGA, Objectives, Facts. MGNREGA Job Card Balance check Online at https://nrega.nic.in/netnrega/HomeGP.aspx
MGNREGA
India's Central and State governments work cohesively to ensure equality among all Indian residents. Through various ministries, the government develops programs that help economically challenged families to avail work and financial assistance. Eligible beneficiaries also access quality education through scholarships and food subsidies. All efforts are designed to give every citizen an equal chance in life.
About MGNREGA Act
The MGNREGA Act is a popular 2005 establishment by the Indian government through the Ministry of Rural Development. The ACT was formerly known as NREGA (National Rural Employment Guarantee Act) before its current name, MGNREGA, which means Mahatma Gandhi National Rural Employment Guarantee ACT.
MGNREGA Act is significant labor law and social security program that allows Indian residents the right to work in government services/work at a particular salary. The scheme offers employment to economically weak people (poor) in rural area homesteads. One member from the said families can work and receive guaranteed wages for 100 days in a financial year. This helps provide employment to millions of citizens in low-income families.
MGNREGA Act is also called Upadi Hami Pathakam, an innovation by the UPA government of former PM Dr. Manmohan Singh. The program comes in handy as it offers monthly funds to more than 15+ crore families. Beneficiaries receive money from the registered bank account to help with daily livelihood.
Nrega.nic.in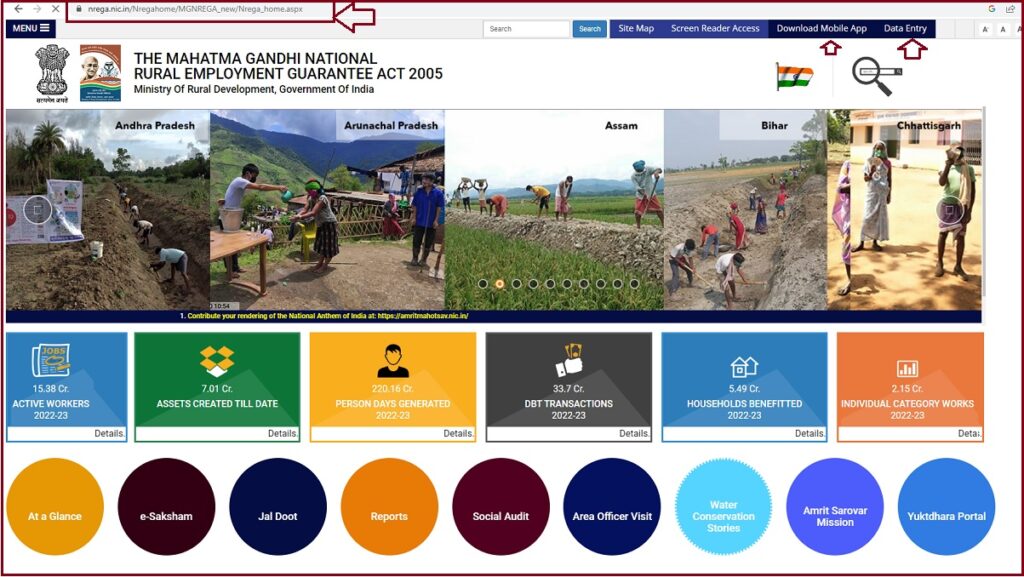 MGNREGA Job Card
How to avail MGNREGA job card
To receive the MGNREGA job card, eligible residents must visit the Gram Panchayat offices. Each area has a gram office, where citizens can avail government services/schemes.
Visit the Gram Panchayat offices near you.
https://nrega.nic.in/netnrega/HomeGP.aspx
Request the respective officer on MGNREGA job card form.
Enter the required details like name, address, and age.
Next, attach your passport photo and review the details.
If okay, submit the Gram officer for verification and approval.
The inspector will provide the job card.
Mgnrega job cards contain comprehensive information about the cardholder. Using the card, one can apply for the Upadi Hami Pathakam work through the Panchayat offices or program offices. The member will receive 14 days' work in an area of 5kms. However, one can get extra money if they work more than 5kms. The money is sent to the applicant's registered bank account.
MGNREGA Job Card Balance Check
Step by step to check MGNREGA job card balance online
MGNREGA details are available on the official website; beneficiaries can check their balance and other scheme data online.
Go to the NREGA/MGNREGA website portal using the link https://nrega.nic.in/Netnrega/stHome.aspx.
The homepage will display all Indian states; choose your state to continue.
Next, select the "transparency and accountability" option.
Click the "job cards" tab to open the "Gram Panchayat module" option.
Choose the following details:

Financial year
District
Block
Panchayat

Review the details and press the proceed button.
A new page will open displaying all job cards and names.
Click on your name and job card number to avail details like:

Job card number
Name of head of household
Name of father or husband
Date of registration
Address
Village
Block
District
Panchayat
BPL family
Epic number
Family ID

Information of applicants of households willing to work.
Proceed to "period and work on which employment offered/given" option.
The payment details will show the month and date, the number of days, work name, MSR number, the total amount of work, and payment due.
Objectives of the MGNREGA Act
The primary aim of the NREGA/MGNREGA program is to help low-income families in the rural areas of India states.
Eligible applicants get 100 days of guaranteed work in a financial year.
Anyone in the family above 18 years can apply for government work/manual work through the MGNREGA scheme.
Beneficiaries help the government maintain roads, canals, wells, and public amenities.
The government provides an unemployment allowance to anyone who doesn't get a job within 15 days of applying.
MGNREGA also works to empower women in the community. The program offers one-third of jobs to women to help support families.
Mgnrega state
https://nrega.nic.in/Netnrega/stHome.aspx
FAQ's
What is MGNREGA?

Mahatma Gandhi National Rural Employment Guarantee Act is a reliable government innovation that provides work and financial help to poor families in India. The program focuses on rural area residents who are economically strained. Registered members get manual labor at a specific salary. The government provides a guaranteed 100 days of work in a financial year for every registered member.

What is the full form of mgnrega?

Mahatma Gandhi National Rural Employment Guarantee Act (mgnrega)

Mgnrega started in which year

2006

When was mgnrega launched

Mgnrega launched in 2006

Nrega official portal

https://nrega.nic.in/Netnrega/stHome.aspx
Info about PMAYG – Pradhan Mantri Awaas Yojana Gramin link