Swami Vivekananda Scholarship 2023: Fresh and Renewal process, Swami Vivekananda Scholarship online application 2023, eligibility criteria at https://svmcm.wbhed.gov.in.
Swami Vivekananda Scholarship
Education is a significant aspect for everyone but an expensive option for many in the West Bengal state. The state offers quality education and perfect education institutions. However, the majority of students don't have the financial ability to complete their education. This increase dropout rates and poverty in many families.
The West Bengal state has introduced many scholarship schemes to ensure every student get the right to free education. The weak financial students can enjoy scholarship benefits and pursue their education. Swami Vivekananda scholarship or Bikash Bhavan scholarship is designed for meritorious students in West Bengal. Students in backward communities also have the privilege to apply for the scholarship. Swamy Vivekananda scheme works for students in higher secondary, undergraduate, postgraduate and other levels.
Svmcm.wbhed.gov.in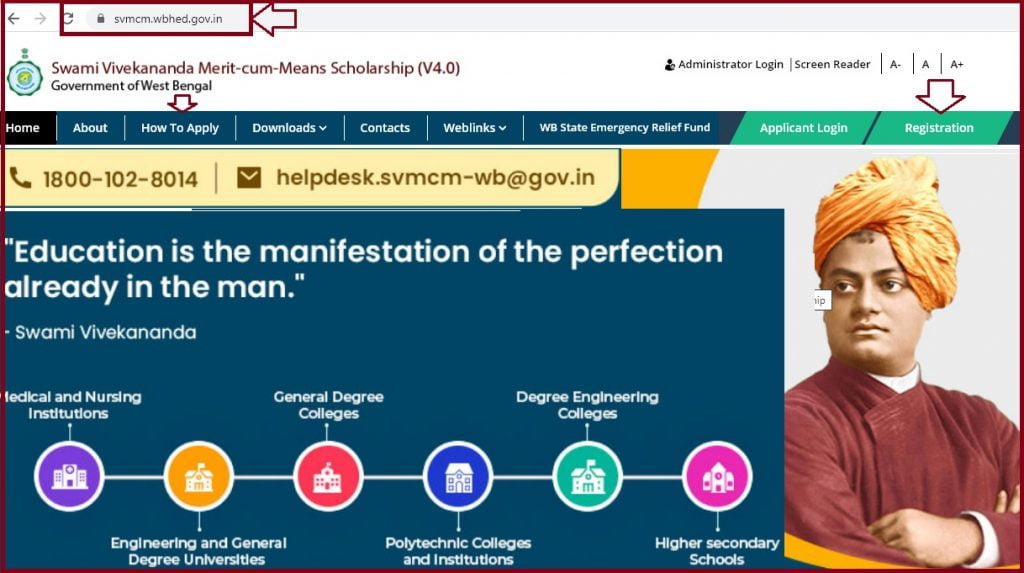 Eligibility Criteria for Swamy Vivekananda Scholarship
The applicant should be a West Bengal citizen.
The individuals must pursue studies on high secondary, postgraduate and other education levels.
The scholarship institutions should be within West Bengal.
The families income shouldn't be more than Rs. 2.5 lakhs
The eligible student needs to score 60% marks in the state board examination to avail of the scholarship. In the past, the state government had set the pass work to 70%.
Scholarship Image Eligibility Criteria for Other Schemes
Required Documents for Swami Vivekananda Scholarship
Applicants address proof documents.
Ration card
Education qualification documents
Recent passport size photo.
Income certificate
Domicile certificate
Copy of passbook and bank account details.
Swamy Vivekananda Scholarship Amount Table
The below prices are defined for different courses under the Swami Vivekananda scheme.
Swami Vivekananda Scholarship Online Application 2023
The online application process for the Swami Vivekananda scholarship 2023
Open the Swami Vivekananda website page "https://svmcm.wbhed.gov.in/".
Select the "registration"
Option to access the registration form on the page.
Enter the mandatory details such as mobile number, email ID and more
The system will generate an application ID after the registration process.
Next, log in to the page
Using the application ID and password and enter the captcha code to proceed.
Now fill in the requested details
On the form and upload the document and signature.
Note the image and signature must be JPG/JPEG and 10KB-20KB.
Review the details and submit the application process.
How to apply for SwamiVivekananda Scholarship 2023 at Svmcm.wbhed.gov.in user manual Download link