Uttarakhand State UPNL Registration 2023 | UPNL Vacancy Dehradun Application form. Uttarakhand UPNL Registration Form 2023 at upnl.co.in
UPNL
Uttarakhand State has incredible work plans for Ex-servicemen, the military workforce returning to the state, and their dependents/members. The government offers a reliable work program allowing participants to earn a daily livelihood. The UPNL medium, formerly UPSUL, has seen thousands of families and ex-servicemen attain different posts. Uttarakhand government utilizes the platform to recruit qualified applicants every year.
The UPNL (Uttarakhand Purvsainik Kalyan Limited) is designed to train, rehabilitate and provide jobs to Ex-servicemen, dependents, Ex-paramilitary, migrants, Ex-UPNL, and civilians. The program was active and helpful during the Covid-19 pandemic when many people lost their jobs.
The government posts various vacancies and provides notifications for applicants to avail the chances. To benefit from UPNL, eligible users should register before applying for any vacancy. Applicants can check for staff nurses, lab technicians, spinning teachers, CSSD technicians, stenographers, typists or DEO, and more. Each category requires some qualifications that the user can avail of online using the site www.upnl.co.in
Upnl.co.in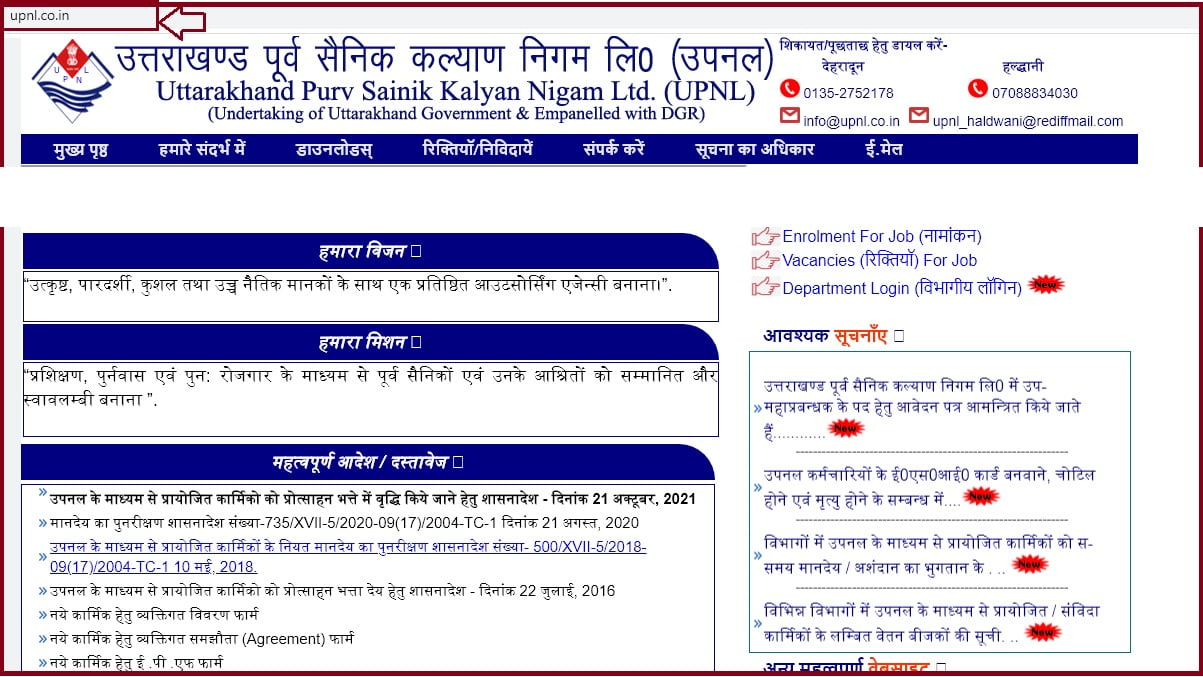 Required Documents for UPNL Jobs 2022-2023
A self-attested copy of the Aadhaar card
Ex-service certificate
Permanent citizenship proof details
Identity card
Residential certificate
Migrant worker details
UPNL Registration 2023
How to register for UPNL Recruitment 2023
Go to the UPNL website via the link www.upnl.co.in
Open the homepage menu and select the "vacancies" option.
Next, click the "UPNL Uttarakhand vacancies apply online" option.
A new list of vacancies will show; select your preferred job. However, you should have educational qualifications and experience in the field.
Next, the system will display the vacancy details for further reading.
The application form will open, enter the required details and upload the correct documents.
Recheck the details and select submit button.
Benefits of UPNL
UPNL offers thousands of users job opportunities after they return from their official military or service work. This helps us in financial flow in the family to avoid strain.
The government uses the program to diminish unemployment rates in the state.
Ex-servicemen can have a fallback plan after retirement.
Uttarakhand government offers equal chances to all applicants based on their qualifications.
The Company helps by donating funds to build schools like Sainik School and handle disasters when they strike the state.
Important Details on UPNL
Interest applicants must apply through the official website
The program accommodates Ex-servicemen and people in such services.
Employees get their monthly salaries through a bank account.
UPNL offers chances to qualified applicants.
The UPNL helps in times of natural disasters.
More than 50,000 people have registered on the UPNL site.
The Uttarakhand government offers an 11-month contract service.
Contact Number and Address
UPNL users can call or write using the following contact details:
| | |
| --- | --- |
| Helpline number | 0135-2752178 or 01352750913 or 01352115191. |
| Email ID | info@upnl.co.in |
| Contact number | 07088834030 |
| Address | Uttarakhand Purva Sainik Kalyan Nigam Limited, Andaman Road, Garhicant Dehradun, Uttarkhand-248001 |
UPNL brings a considerable amount of tax (Rs. 23,000 Crore) to the state. The service accommodates numerous ex-servicemen, migrants, civilians, and anyone eligible for the program. Interest applicants can check for 2022 opportunities as shown in the table (examples)
FAQs
Who can apply for UPNL vacancies?

The opportunities are open to Ex-servicemen, migrant workers, civilians, Ex-UPNL, Ex-paramilitary, and their dependents.

How will employees get their salaries?

Once employed, every employee will receive their salaries through a registered bank account.

UPNL Full Form

Uttarakhand Purvsainik Kalyan Limited