Jan Suchna portal
The Rajasthan state government has eased the hassles of acquiring information for different schemes and services online. The government has developed a portal where state citizens can retrieve details from a single Jan Suchna portal. Jan Soochna website portal is the new development by the Information and Technology department. The portal contains a list of 56 schemes from 30 departments and more information about 154 schemes in the same portal. These provide citizens with a chance to access different schemes with a single login. Users can access the portal (Jan Suchna) through the link https://jansoochna.rajasthan.gov.in/
Jan Soochna Portal
What are the benefits of Jan Soochna website portal?
Rajasthan citizens can get public information quickly from a single portal.
The portal reduced corruption cases as services are available online.
It provides transparency in the government.
Rajasthan citizens can access information without visiting the department offices.
Citizens can check the list of the department from the portal by visiting the https://jansoochna.rajasthan.gov.in. Here they can access the following departments and schemes.
jansoochna.rajasthan.gov.in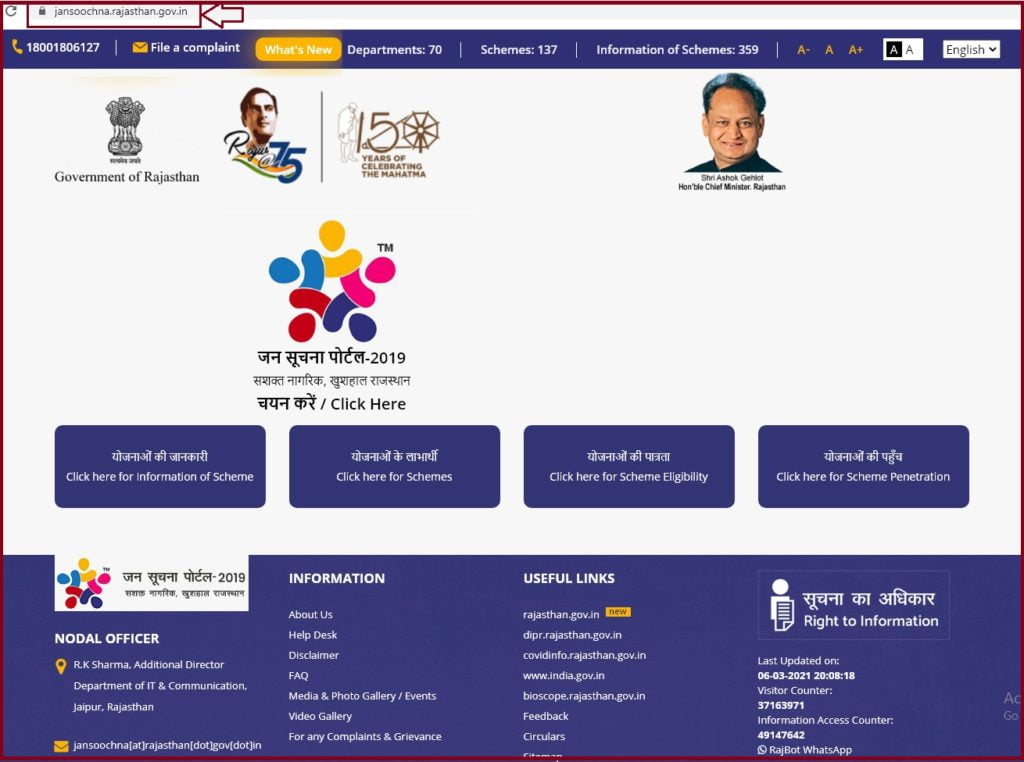 List of the scheme under the Jan Suchna scheme
Procurement of Food Grain on Minimum Support Price(MSP)
Rajasthan Kisan Loan Waiver Scheme 2019.
Short Term Crop Loan 2019.
PM Kisan Samman Nidhi Yojana.
Society Registration Application (Co-operative) etc…
How to Apply Rajasthan Jan Soochna Portal State Wise
Go to the Jan Soochna website portal.
https://jansoochna.rajasthan.gov.in/
On the homepage, click the option "click here for information on the scheme."
A new page will show with rules and regulations of the portal.
Next, get the complete details for specific schemes in the State.
You can click each scheme and retrieve information according to preference.
How to Download Jan Suchna Mobile APP
On your device, go to the google play store or App store.
Enter the word Jan Soochna on the search box.
https://play.google.com/store/apps/details?id=com.risl.jansoochna&hl=en_IN&gl=US
The page will show different search select the right Jan Soochna app.
Click the download button then install the app on your device.
You can now open the app and access all the government services and schemes.