Comprehensive Guide on Assam State Zoo Guwahati, Assam State Zoo Timings, payments, attractions, and guwahati zoo ticket price. Assam State Zoo Guwahati Online Ticket Booking 2023 at https://assamstatezoo.in/proceedbooking
Assam State Zoo
The Assam State zoo/Botanical Garden is the most visited tourist attraction in the state, with more than 1000 visitors arriving daily. The Zoo offers comprehensive features from amazing plant species to animals. Assam state zoo attracts local and international tourists making it a global monument in India. Due to the huge numbers, the park management has implemented ways to avail entry tickets online. The move helps in managing the number of visitors per day since the outbreak of Covid-19.
Interested people can check Assam State zoo guidelines and the booking process through the official website. The portal offers comprehensive details on available days, payment, tickets, payment procedure, adoption process, visiting sites, and more.
About Assam State Guwahati Zoo
Assam state Zoo/Botanical Garden, also referred to as Guwahati zoo, is a great mark of natural blessing in the North-East region of India. It's popular for thousands of attractions like animals, birds, reptiles, plants, and beautiful nature. Assam State zoo is located in the Hengrabari Reserve forest in Guwahati, India.
The zoo occupies 432 acres of land, giving animals freedom to transverse the zoo without human restrictions. Assam zoo was launched in 1957 and hosts different animals giving them the best shelter. The zoo authorities allow Indian residents to adopt animals and help fund any need of the particular animal. To avail more information, users can check the official Assam state zoo link https://assamstatezoo.in/home.
Assamstatezoo.in/proceedbooking
Assam State Zoo Guwahati Online Ticket Booking 2023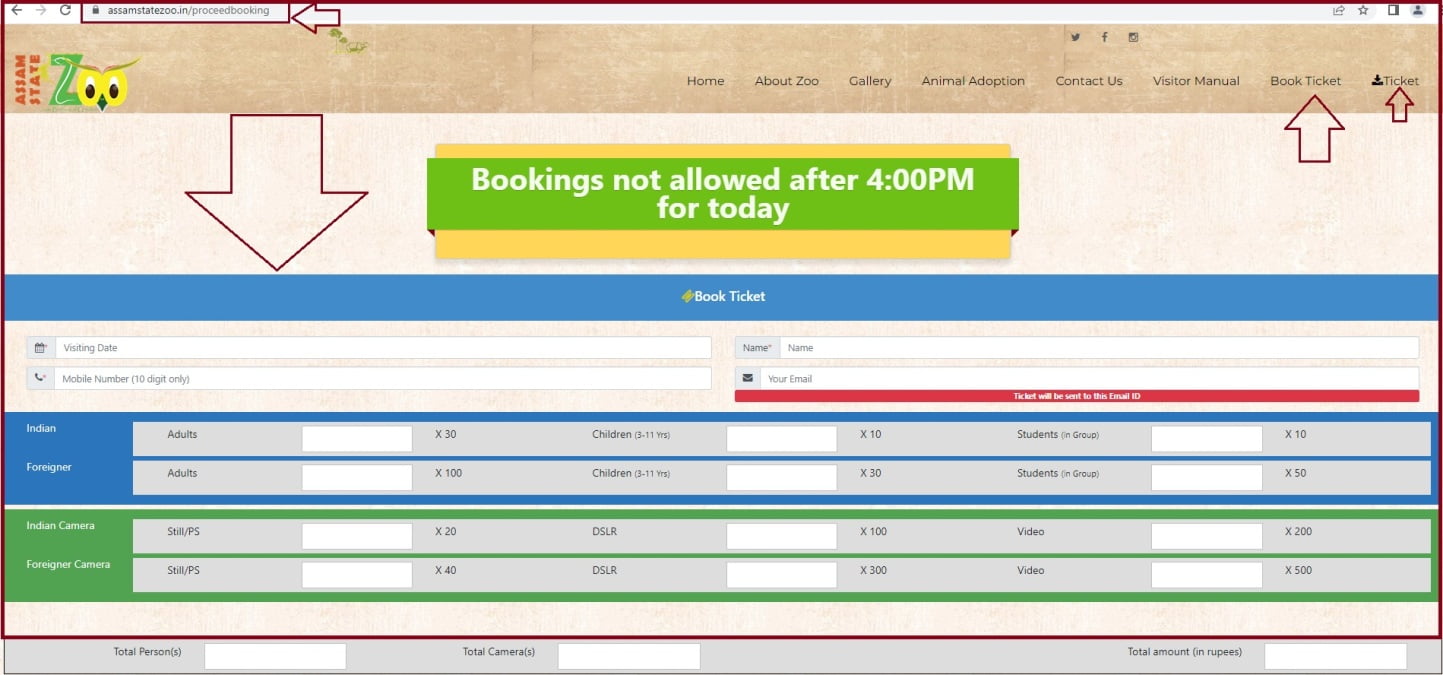 Guwahati Zoo Post Covid-19 rules and regulations
Visitors should wear a protective mask during zoo visits.
The zoo will only accommodate 1000 people daily, meaning visitors should book in advance to get slots.
Interested people should book their tickets online.
The Assam State Zoo is open from 8:00 am to 4:30 pm.
The user must show either softcopy or a physical copy of entry tickets.
During the visit, the user must present their identity documents.
The system will send tickets to users' email IDs, making them easy to download on their devices.
Assam State Zoo Online Ticket Booking
Step by step to buy Assam State Zoo Guwahati Online Ticket Booking 2023
Visit the Assam State zoo website portal using the link
https://assamstatezoo.in/home
Open the homepage, and select the book ticket link to open a new page
Next, select the "visiting date" from the slot indicated on the page.
Proceed and enter the required details like the applicant's name, mobile number, and email ID.
For Indian residents, use the Indian column, and enter "Adult children and student details."
Foreigners should use the foreigner column: adult, children, and student column
Next, fill in camera information, whether you have a camera inside the zoo.
Enter the total persons, total cameras, and total amount
Ensure to enter every individual's name, age, and gender details.
Next, enter the captcha code, Click submit button
The system will verify the information and send the e-ticket to your email ID.
The user can download the ticket on their mobile or computer device.
Assam State Zoo Entry Fee For Indian Visitors and Foreigners
Particulars
Indian Citizens Rates
Foreigner Rates
Entrance Fee:
Adult
Child (5-12 Years of age)
Child (Below 5 Years)
Rs. 30/-Per Head
Rs. 10/-Per Head
Free Entrance
Rs. 100/-Per Head
Rs. 30/-Per Head
Free Entrance
Students Concession(in groups) :
L.K.G / U.K.G
Student
Free Entry
Rs. 10/- Each
Free Entry
Rs. 50/- Each
Vehicle Parking :
Cycle
Scooter / Motor Cycle
Car / Jeep / Auto
Mini Bus / Tempo / Bus
Rs. 5/- Each
Rs. 10/- Each
Rs. 50/- Each
Rs. 100/- Each
Rs. 5/- Each
Rs. 10/- Each
Rs. 50/- Each
Rs. 100/- Each
Camera :
DLSR Camera
Video Camera
Still Camera
Rs. 100/-each
Rs. 200/-each
Rs. 20/-each
Rs. 300/- Each
Rs. 500/-Each
Rs. 40/- Each
assam state zoo ticket price
Assam State Zoo Guwahati Zoo Timings
| Day Name | Timings |
| --- | --- |
| Sunday | 08.30 AM to 04.30 PM |
| Monday | 08.30 AM to 04.30 PM |
| Tuesday | 08.30 AM to 04.30 PM |
| Wednesday | 08.30 AM to 04.30 PM |
| Thursday | 08.30 AM to 04.30 PM |
| Friday | ZOO Closed |
| Saturday | 08.30 AM to 04.30 PM |
(Ticket Bookings not allowed after 04.00 PM)
The zoo also charges for car parking; this helps insecure the vehicle during visitation hours. Car owners need to provide correct contact details in case of any issue.
Animal Adoption Process in Assam ZOO
People have the privilege to adopt any animal in the zoo. The authorities will provide details on the adoption process, as shown below.
The visitor needs to identify the animal they wish to adopt.
Proceed to support levels "A, B, and C."
The zoo management will guide you on the adoption process after the support levels.
One can call or email the zoo authorities using the following details:

8133010999
8721857919
7002716702
FAQs
Can I use a camera at Assam State zoo?

Yes, one can use a camera, but you must declare you have a camera and pay the requested charges.

What is the current number of visitors visiting the zoo per day?

Since the Covid-19 pandemic, the park is accommodating 1000 people per day.
For more information visit this link https://assamstatezoo.in/visitorManual