Union Bank of India RTGS Form free download. UBI NEFT form pdf format free download links given below. How to fill rtgs/neft form of union bank of India. UBI net banking login at www.unionbankofindia.co.in
Union Bank of India RTGS Form
UBI bank is a government-owned bank in India, is one of the largest public sector banks in the country, and has 120 plus million customers. The bank has all banking services, including RTGS and NEFT, for its loyal customers. 
The RTGS services is a unique banking service where customers transact money online without physically visiting the bank. They can send and receive money from one bank account to another bank account. RTGS and NEFT services are a secure and efficient way to transfer your money and a proper way for customers to trace their funds quickly.
UBI RTGS Form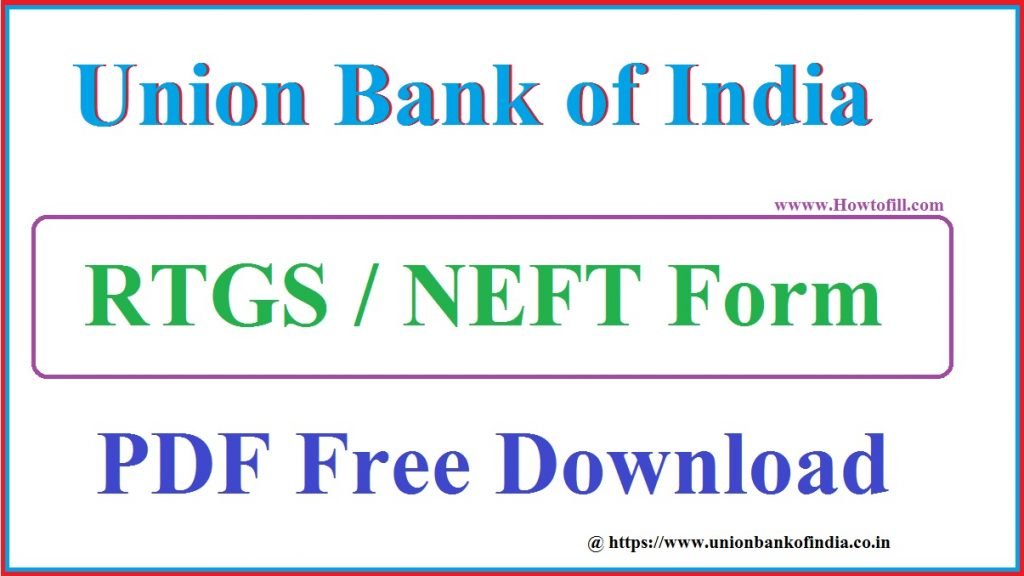 Union Bank of India NEFT Timings
The NEFT money transfer timings are from Monday to Friday from 8 am to 7 pm and on Saturdays from 10 am to 4:30 pm, excluding 2nd and 4th Saturday. For RS 2 lakhs to Rs. 5 lakhs, the charges are Rs. Thirty-five and above the Rs. Five lakhs charges are Rs. 57. 
UBI RTGS Timings
The RTGS timings are from Monday to Friday from 8 am to 3:30 pm, and on Saturdays, 10 am to 3:30 pm excluding 2nd and 4th Saturday.
Note the RBI bank of India controls the RTGS timing. However, banks can slightly different in terms of time and charges.
How to Fill Union Bank of India RTGS Form / NEFT form
The UBI RTGS registration form is an official document that needs to be filled correctly to avoid future mistakes. Customers should read carefully and answer accordingly.
UBI RTGS form is divided into two parts, the right section, and the left section. The right part should have beneficiary and remitter details, while the left section is the customer's copy.
On the form, enter each detail as requested, fill in the sender account details, beneficiary account information, the amount to transfer, and the beneficiary IFSC code.
The next section is the branch uses the only section on this part. The bank officials are the only people to fill in bank details. After the transaction process is over this section, they will mention the transaction id.
Note the RTGS system works differently from the NEFT service. The RTGS maximum amount is Rs. 2 lakhs while the NEFT service customer can send less than the Rs. 2lahks.
The transactions are done from one bank to the other or from the same bank beneficiary.
UBI RTGS Form / NEFT Form 2023 PDF Download
For more please visit UBI net banking web portal at www.unionbankofindia.co.in
UBI Full form

Union Bank of India (UBI)