The Slice Credit Card Apply Online, Customer Care Number 2023. Guide on Slice Credit Card Benefits & features, eligibility, How to apply for slice CC at https://www.sliceit.com
Slice Credit Card
Credit cards offer financial stretch, especially when purchasing pricy items. Credit holders can access quality household goods, cars, shopping and incredible items on credit. The service relieves the financial strain giving the user time to pay in instalments. Indian residents can access simple and amazing credit card deals that fit their cibil score and income. These are the major hindrance to availing credit cards as providers require promising income and high scores.
However, the Slice digital app/platform comes with the best Creditcard deals to accommodate first–time credit users, low-income earns and people with low cibil scores. It's perfect for everyone and offers major discounts and cashback. Slice Creditcard doesn't require a joining fee or annual fee to operate, making it simple to handle.
Sliceit.com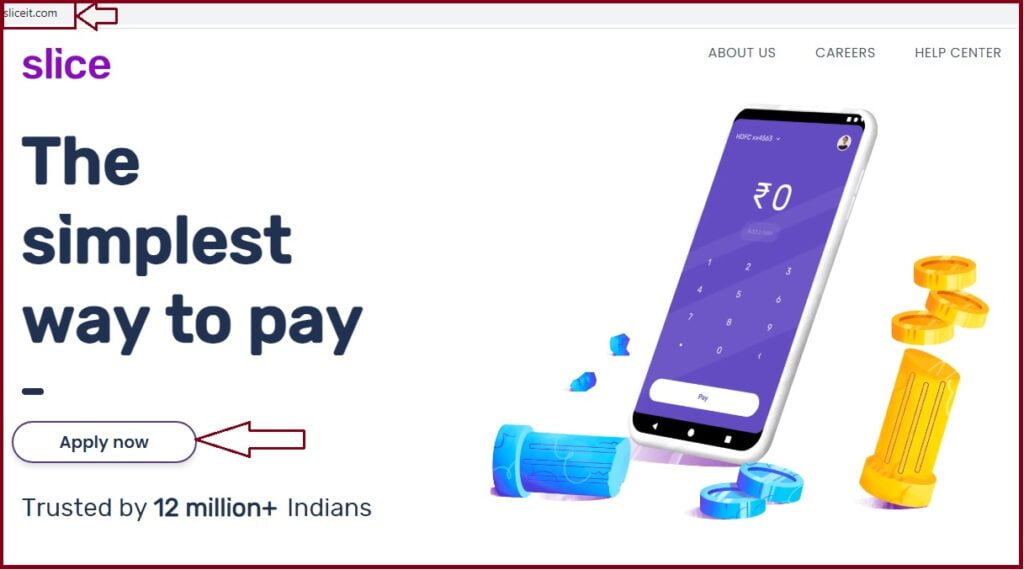 Features and Benefits of Slice Credit Card
Slice Credit card offers various benefits and features as follows:
Cardholders will avail of a 2% cash back on every transaction.
The user can pay the credit in three instalments without extra charges.
The slice creditcard has no joining or annual fee.
One can enjoy a credit limit of RS. 10 lakhs.
The slice creditcard is acceptable in different merchants that allow VISA credit cards.
Slice platform doesn't require a credit score to issue credit cards.
The user must be 18 years to access a slice creditcard.
One can share bills with friends by adding tags.
It is easy to avail the credit card passbook on your mobile device.
Slice card users can make payments by scanning and sending money anywhere.
How to Apply Slice Credit Card Online
Open the Slice portal via the link
https://www.sliceit.com
Select the "apply now" option to continue.
Next, scan the QR code and get/download the app on your device.
Follow the page instructions to complete the application process.
Required Documents for Slice card application
Address proof documents: Aadhaar card, PAN, DL
Identity proof: voter ID, PAN card.
Eligibility Criteria
Applicant should be 18 years (min) and above.
Self-employed and salaried people can also apply.
One must be an Indian resident
Slice Credit Card Fees
After fulfilling the eligibility and documentation details, the user should check card charges to avoid inconveniences.
| | |
| --- | --- |
| Card Particulars | Fees |
| Joining fee | Nil |
| Renewal or annual fee | Nil |
| Card replacement fee | INR 500 |
| ATM cash withdraw | INR 50 |
| ATM charges for other services | INR 25 |
Slice Creditcard offers users a reasonable minimum and maximum credit limit compared to other cards. The cardholder can get a min of INR 2000 and a max of INR 10 lakhs. Cardholder can check their limit during the card application process. The limit will align with the user's income details and usage. However, one can increase the limit but paying the instalments on time.
Slice CreditCard Offers (Based on Different Seasons)
The slice credit cardholder can enjoy different offers/discounts from renowned joints like:
Zomato
Swiggy
EazyDiner
Zoomcar
FabHotels
Ixigo
Slice Credit Card Customer Care Number
Slice Helpline Numbers: Interested or existing users can call the slice customer care number for any enquiries.
| | |
| --- | --- |
| Contact number | 8047096430 (or) +91-8048329999 |
| Email ID: | help@sliceit.com |
Registered Office Address of Slice Credit Card
GaragePreneurs Internet Pvt Ltd
747, Pooja Building,
80 feet Road, 4th Block,
Koramangala, Bangalore-560034
FAQs
What is the correct credit score before applying for a slice credit card?

The Slice platform doesn't require a user's credit score when applying for a credit card.

What is the joining fee for a slice credit card?

There is no joining or annual fee on the slice credit card.